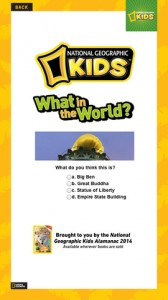 Recently, we have seen a lot of children's apps that are making use of the camera on iPads and iPhones. This 'augmented reality' takes interactivity to a whole new level for parents and children alike. We recently covered the release of a new art app called SquiggleFish that uses the iPad camera technology to incorporate a child's artwork into the app. Now, National Geographic is following suit and has just released a new 'scanner' app that utilizes the same technology.
'National Geographic Kids Scanner' is a newly released app from National Geographic that partners with their print publication, "National Geographic Kids". Released on May 8th, the new app uses the iPad camera technology to scan the 'Digital Extras' symbol in the Nat Geo Kids magazine to receive more information about the article via their phone or tablet.
By scanning the Digital Extras symbol, kids will be able to watch related videos, learn amazing facts and play fun, challenging trivia games. Not only does the scanner work with National Geographic Kids magazine, it is also compatible with the 2014 edition of the National Geographic Kids Almanac, as well as the up and coming National Geographic Kids World Atlas. With the use of an almanac and an atlas, there is obviously a lot of educational potential within this app. What's more is that children will love the interactive aspect while still maintaining contact with real, tangible books. What more could a parent want? Education, interactivity and reading all rolled into one awesome package!
If your child is subscribed to National Geographic Kids magazine and you would like to try out this brand new app from National Geographic, click the Apple iTunes App Store button below to download it for free! This app is compatible with both iPad and iPhone and requires iOS 5.0 to operate.