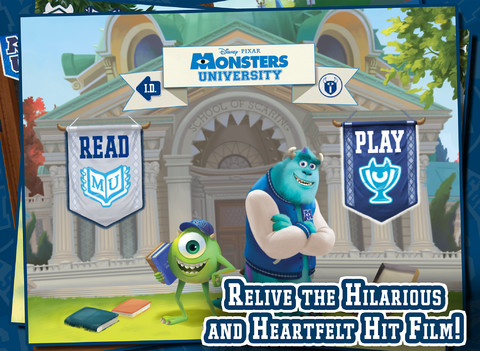 When the original "Monsters, Inc." movie was released I was instantly smitten.  The year was 2001 and I was in college.  (Don't laugh – I'm a lifelong Disney movie fan.)  To this day it's still one of my favorite Disney Pixar flick, and when my oldest is being particularly monstrous I have been known to call him Boo.
When "Monsters University" was released earlier this year I was so excited to be able to introduce the franchise to my kids.  We still haven't seen the movie but we started with Monsters University Storybook Deluxe, a companion app to the movie that lets players relive the story of how Mike and Sulley met in college.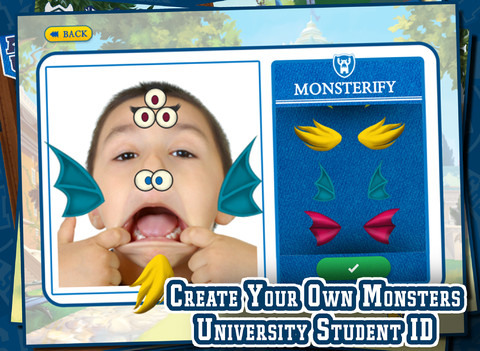 Between the two different modes within the app there are a ton of different activities.  In the "Read" mode a narrator tells the story of the beginning of a beautiful friendship.  Interactive surprises are sprinkled throughout the illustrations and every few pages there's a short video straight from the movie.  "Play" mode offers five different games played in 3D from the first-person point of view.
There are also little extras that players need to keep a big, round eye on.  Identification badges are hidden in the story and finding them unlocks new characters to play the games.  Catch Archie the Scare Pig to see some great animations of monsters running across the bottom of the screen.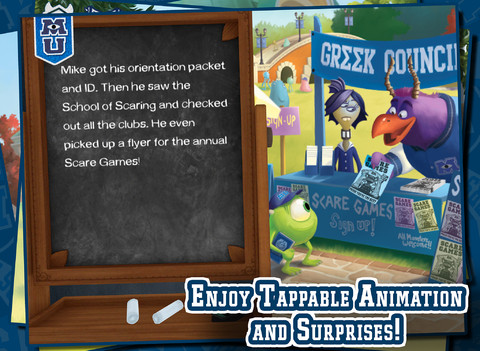 Even without having watched the movie my kids had immense fun playing this app.  My 3-year-old listened and followed along to the story from start to finish, and she laughed hysterically when she tapped on Archie.  The games were a high point for my 5-year-old; he loved the challenge of tilting the iPad to get through obstacles.
Disney puts a deluxe price tag on its storybook apps; $6.99 is a steep price point for most budgets.  But the apps rarely disappoint content-wise and Monsters University Storybook Deluxe is no exception.  It easily makes our All Star list!
Pros:
– Two different modes offer a range of several activities for all ages
– Five fun games are played in 3D first-person point-of-view
– Narration of the story and spoken game directions mean no reading required
Cons:
– None; this app gets straight As from us!

Price: $6.99
Age: 3+
Send your little monster to school with this storybook app
Please help support iPadKids by downloading the game via the App Store icon below!