Anyone who has ever had to wake a 4 year old up at 6am for pre-school knows what a monster mornings can really be. I know I do. That's why I love this app! Monster Morning is a great new storybook app that explores the morning routine using the cutest monsters you have ever seen! Who doesn't love getting a little help from monsters, right?
Monster Morning portrays two monsters (called Peter and Peril) that have a picture perfect morning routine that will be an inspiration to parents and kids everywhere! As they go about their day, Peter and Peril wake up bright and early, and head to the kitchen to eat a delicious (and slimy, of course) monster breakfast! After they eat, the two monsters are off to brush their monster teeth and scrub their gooey monster toes. After finishing up their monster-hygiene rituals, its off to school of Peter and Peril, so they pack their backpacks and get ready to go.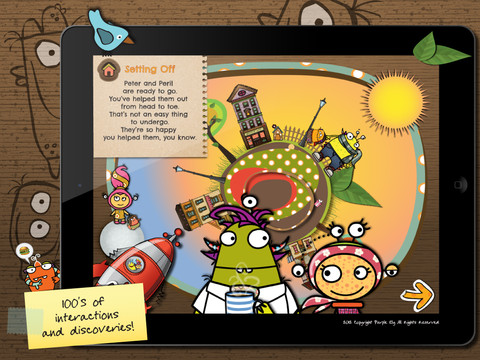 Monster Morning is a great tool for parents or caregivers who may be struggling with the repetitiveness of their child's morning routine. It has just enough gross monster-ness to appeal to children across a large age span, while at the end of the day (er…morning?) kids are getting the assurance and reinforcement that they need to work through the trials of an early morning routine.
Released just a few days ago, Monster Morning is brand new to the app store and shouldn't be missed out on. If your child is one of the many children who struggle with getting up for school or day care in the morning, the Monster Morning storybook app is for you. Check it out!
Monster Morning can be downloaded for $1.99 via the Apple iTunes App Store button below. It is available for iPad only and operates on iOS 4.2 or later.