NCSOFT, winner of the world renowned Red Dot Design Award, has just released their latest app this week called Meet the Insects: Village Edition. With visually-captivating graphics and a plethora of buggy information, Meet the Insects: Village Edition is an amazing learning resource for kids who are fascinated with insects and their natural habitats. What child doesn't love playing with bugs?
Meet the Insects: Village Edition contains extensive information about common insects that children will love learning about. Each insect has an audio-narrated descriptions and video commentaries for children who may not yet be able to read on their own yet.  The app sports a day and night mode that allows kids to interact with different bugs during their natural 'awake' time. Bugs can be poked and prodded by children as the wiggle across the screen, allowing for maximum interactivity.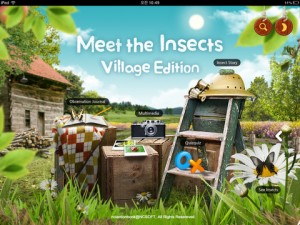 Kids can choose their favorite insects by tapping them and learn amazing facts about each one. Children will learn why flies rub their legs together and how grasshoppers and cicadas make sounds, all while directly interacting with each bug, individually.
After browsing the entire insect encyclopedia, kids can test their knowledge and memory by taking a photo quiz about everything they have learned. There is even a handy 'observation journal' that allows children to document the different bugs that they may find around their home or yard. This important feature teaches the scientific process and the relevance of scientific journalism in a fun and engaging way.
NCSOFT, recognized by the Washington Post for their educational achievements, released Meet the Insects: Village Edition as the second installment of their insect encyclopedia that began with Meet the Insects: Forest Edition.
Meet the Insects: Village Edition is available for download via the Apple iTunes App Store button below. The app is available for iPad only and requires an iOS of 4.0 or later.