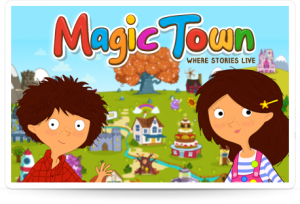 Hop on the reading train and make a stop in Magic Town, where stories come alive.
Price: FREE
Age: 2+
If your little one can navigate the iPad, they're ready to play this magical game!
Details on our giveaway at the bottom of this review. Find out how you can win one of four yearly Magic Town subscriptions, valued at $74.99 each!
Pros:
– Highly engaging method of storytelling
– Graphics are beautiful and artful
– Variety of "extra" activities to further reinforce early learning skills

Cons:
– While the download and many of the e-books are free, the in-app purchases for a subscription or additional books can really add up
I am really lucky – my kids love books. We make almost-daily trips to the library and frequently test the boundaries of book limits, due dates, and tolerance for custom artwork in the empty margins on the pages of the newest Caldecott winner.  After noticing a wanted poster behind the checkout desk with my mugshot plastered on a cork board, I was quite relieved to download Magic Town.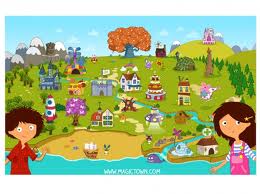 The app opens with a lush view of a fairy tale land replete with guides Max and Izzy, who welcome me to Magic Town in their mesmerizing British accents. The two children then introduce Louis the Lion, a storyteller who helps feature each daily story.
Louis pointed the way to the e-bookstore where there were literally dozens of illustrated children's choices. Classic and modern tales are richly illustrated and animated to reflect current trends in children's print books. Once I downloaded the books a corresponding building was erected in the opening landscape; "The Princess And The Pea" provided a bubble-gum pink castle and "Sinbad the Sailor" was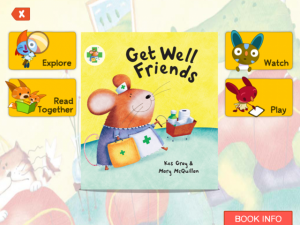 opened by tapping a pirate ship.
Within each e-book there are several more options for readers, such as a puzzle from the book's illustrations and story narration. I could explore each book by answering questions such as "Can you find Sinbad the Sailor on this page?"  The play option provided some of the most interaction, by not only telling the story by narration, but highlighting some animation for me to tap and activate.
Several books are free, as is the initial download of the app, and there is a new free book released on a daily basis. For the younger subset that really thrives on repetition, this happens to be ideal, but older readers will bore quite easily of the free offerings. It costs nearly $6 for a single book download which is obviously more than a library rental, but also pretty steep considering there are several retail outlets offering very inexpensive options for print books.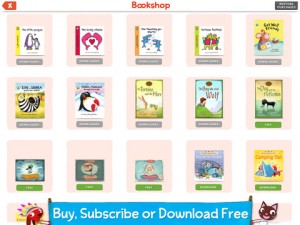 A subscription for unlimited book access is also available but that too can get pricey at $11.99 per month, $59.99 for a six-month run, or $74.99 for a year-long subscription. Terms of membership are pretty militant (ie "No cancellation of the current subscription is allowed during active subscription period") and the costs auto-renew unless you remember to change the settings manually.
Overall, Magic Town as an app itself is stellar with regards to the basic concept of literally bringing books to life. It covers all of the prerequisite early-learning bases: narration to help with word recognition, engaging animation to keep young players interested, and games to reinforce the skills being taught. The cost of playing this app over an extended period of time is the only thing that prevented me from giving it a full five-star rating.
For occasional play this app is perfect but be prepared to invest if your child falls in love. Heck, it may end up being cheaper than going into debt to your public library, but I wouldn't know anything about that…
Details:
– More than 15 free stories. Plus a new free story every day.
– Over 65 titles available immediately.
– 15 new titles released every month.
– Purchase stories individually or subscribe for full access to the entire library of titles.
– Each picture book has four reading modes. Watch, Play, Read Together and Explore.
– No advertising in-app.
Giveaway
We're giving away 4 yearly subscriptions to Magic Town, courtesy of the talented folks at Mindshapes. Each subscription is valued at $74.99!
Please enter the giveaway via the Rafflecopter widget below.