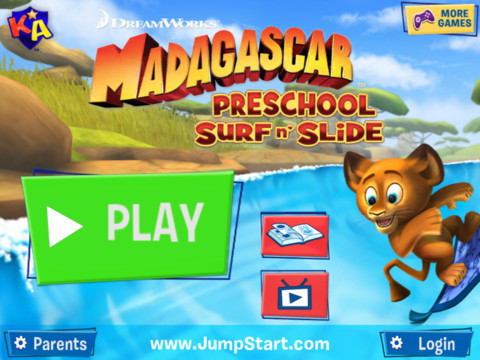 I'm not going to try and pretend that we are "that" family that limits TV time because the truth is, we don't.  Sometimes  it's just a quick episode to help Mommy get through cooking dinner without helpful cooking tips from the peanut gallery. We also love to watch movies (me more so than my kids, really) and it's hard to choose with the abundance of kid-geared flicks out there. There are very few animated movies that actually capture my kids' attention for longer than 48 seconds, but the "Madagascar" series seems to cast a magical spell that keeps 'em quiet for a record-setting 15 minutes at a time.
Madagascar Preschool Surf n' Slide translates this magic into a fun and easy-to-navigate app especially made for the 2-4 crowd.  Part action-adventure, part learning game, the app features the popular characters of Alex, Gloria, Melman, and Marty – but as they were as a young cub, foal, giraffe, and calf (baby hippo).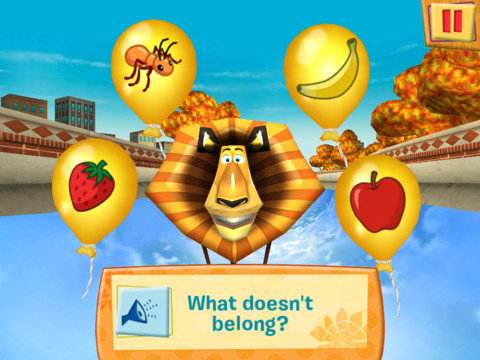 Players get to choose their character and their "ride" – any one of several magic carpets – and then navigate a slippery slide collecting stars.  Every so often there is a stop along the way, mini-games asking the player to choose which picture doesn't belong out of a group of four, or to identify shapes, numbers, or letters by tapping.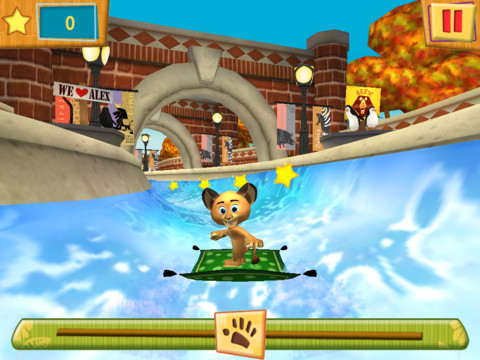 This app is so easy for 2- to 4-year-olds to play because it has been streamlined for little hands and early learners.  Instead of tilting the iPad to move the character through the slide, there's a navigation bar at the bottom on which players move a tab left and right.  That reduces the chance of dropping or bouncing the iPad.  Also, all directions are verbal, which means non-readers won't get frustrated figuring out how to play the game.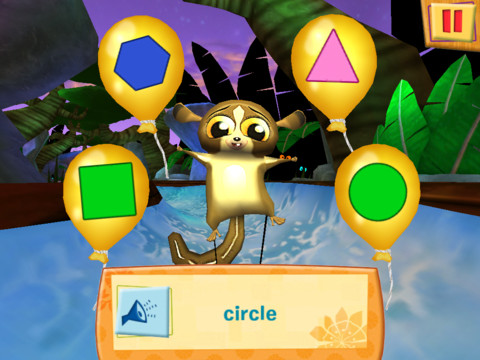 Both my kids – 3 and 5 – are taking turns playing this app as we speak.  In fact, I don't know that they've really done anything else for the past hour.  My youngest is particularly fond of Gloria, and flew into a fit of hysterical laughter when she saw the hippo as a calf.  She still doesn't understand some of the mini-games but my 5-year-old quickly picks out the shape or the letter, or taps the item that doesn't belong.
It's a little pricey in general at $2.99 but remember that licensed/franchise apps tend to be on the high side.  Plus it's really targeted for the 2-4 age group and could be boring for older, school-aged kids.  However, if your preschooler is anything like my two and they like to "move it, move it", then this would be a great addition to your iPad.
Pros:
– Features "kid" versions of the popular movie characters
– Verbal instructions mean players don't need to read
– Teaches early learning skills in a fun and familiar way
Cons:
– Skill levels really limit this game to the preschooler crowd

Price: $2.99
Age: 2-4
This app will make your preschooler want to "move it, move it"
Please help support iPadKids by downloading the game via the App Store icon below!