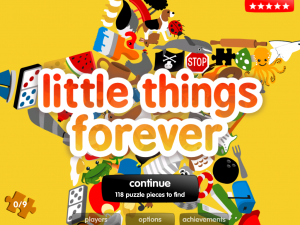 This fun and engaging puzzle game includes a picture of everything – including the kitchen sink!
Price: $2.99
Age: 4+

The younger crowd will need some reading help.
Pros:
– Fun and bright graphics
– Easy game play for either one player or the whole family
– Keeps players occupied for literally hours

Cons:
– Young players might get a little frustrated
Mornings around here are as hectic as a fire drill at clown school.  Not only do I need copious amounts of caffeine to be semi-functional, but I'm also scatter-brained and so near-sighted that I'm legally blind without glasses.  One thing I'm most infamous for is not being able to find my car keys, even though I have added several large and neon-colored key rings.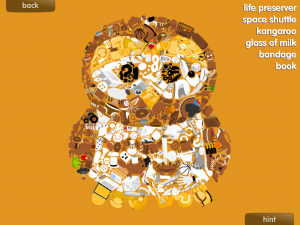 Fortunately, Little Things Forever is much more fun than trying to get out of the door with matching shoes and some tiny shred of sanity.  In this brightly-colored and engaging puzzle app, players are given a list of objects to find within a pictogram made up of hundreds of other "little things".  If the list is checked off within a given time limit and without using available hints, then a puzzle piece is earned.  As the levelsprogress there are more puzzle pieces required to unlock new pictograms.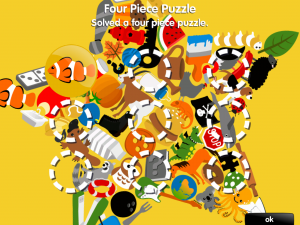 When I first started playing this game I was overwhelmed by the number of objects I had to search through to find three simple items on a list.  I spent 20 minutes playing the very first level when it should have taken me less than 5.  As I moved through the levels my technique got more efficient but I still got stumped in almost every level with at least one object.
I knew I would have to convince my four-year-old to want to play it as he tends to like a little more action.  He actually didn't last more than a minute even with my help searching and I knew if I pushed him to play some more, he would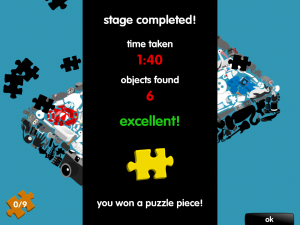 quickly get overwhelmed.  This may not be ideal for those little ones who like high levels of interactivity in their apps.  However if your kiddo loves to play hide and seek and has a longer attention span, Little Things Forever is a sophisticated version of hide-and-seek.
This app is fairly priced at $2.99 and will provide endless amusement for the right player.  The best part? It doesn't require coffee or bottle-cap glasses.
Details:
– Unique and beautiful seek and find game for everyone
– Thousands of little things to find
– Incredible artwork and a beautiful soundtrack
– Retina display support on iPhone and the new iPad
– Randomly generated lists of things to find means you can be entertained forever! Excellent value
– 101 puzzle pieces to collect and 9 puzzles to solve
– Built to last: Little Things® Forever will feature new puzzles delivered in future updates
– Fun for all the family