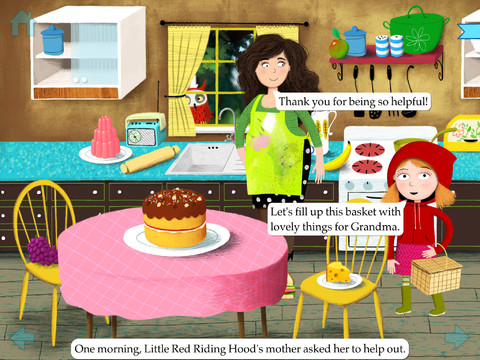 My kids love going to their grandmother's house.  Lovingly dubbed Gigi (a commonly used Southern euphemism), she lets them get away with pretty much anything.  Want candy for breakfast?  Gigi will let us!  Mom said no? Don't cry, just go ask Gigi!  My husband and I have nicknamed her house "The Land of Yes".
Little Red Riding Hood is an app version of a visit to Gigi's house.  It's familiar and fun, and players have the autonomy to choose what happens.  It's like The Land of Yes on your iPad.  The story is the classic childhood cautionary tale – little Red dons her hooded cape and heads off to ailing Granny's house with a basket full of goodies.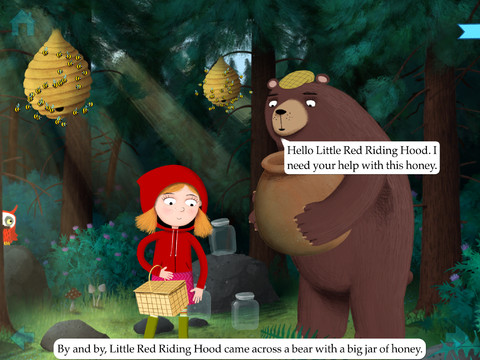 This is where Nosy Crow veers off the forest path: in this app, kids can choose to pick flowers or collect feathers, help a bear collect honey, or make music with a monkey (babboon?). Red still meets the wolf on the path and still ends up at Granny's, and the outcome is as expected.
The illustrations are very cool and more artful than cartoonish.  British-accented voices narrate, and the sound effects and interactive surprises are sure to delight and surprise.  The aim of the interactive choices in the app is to keep kids engaged and it certainly worked with my 3- and 5-year-old.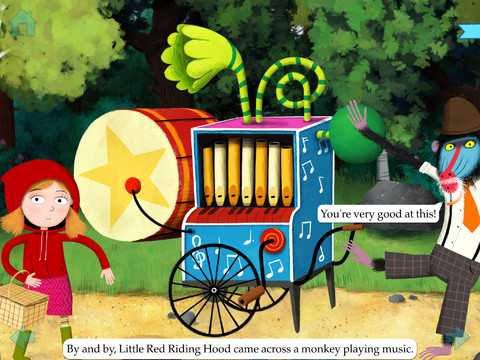 We loved that this wasn't the same old same-old story of Red and her Granny.  My 3-year-old loved picking flowers and my 5-year-old was delighted by the gruff wolf.  They each played the app several times over and never once had the same storytelling experience because of the customizable options.
At $2.99 this app is a steal – when you think about it, it's almost like having a new app every time you play.  It's a fun retelling of a classic tale, and the kids won't walk away with a tummyache from too much candy (like they have when they leave The Land of Yes).
Pros:
– Players have the freedom to choose their own storyline
– Fun and original illustrations keep kids visually engaged
– Plenty of interactive surprises, games, and activities throughout the story
Cons:
– None; this app is better than an afternoon at Gramma's house

Price: $2.99
Age: 2-6
Pack your basket and grab your hoodie – this app is big fun
Please help support iPadKids by downloading the game via the App Store icon below!