There's this toy called the Speak 'N Say, an actual non-iPad toy, that has been on the market for decades.  I remember having it when I was young, and my children have had several different versions.  I'm sure you (and maybe even your kids) will know what I'm talking about; you pull a little lever on the side, an arrow spins around and lands on an animal, and the toy "speaks" the animal's name.  The toy also loudly shares the noise the animal makes.
Well, think of Little Lion as an app version of that toy, streamlined and updated to appeal to the youngest iPad-owning generation.  Born in Sweden, this game sets out to help players learn about the animals of the African Savannah – the lion,  zebra, monkey, giraffe, elephant, and some sort of native red bird.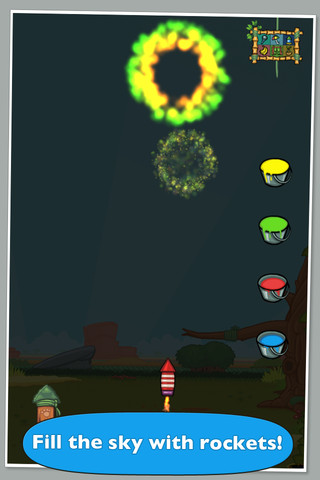 Throughout six different mini-games the animals travel across the land teaching players. In one game the animals and their meals are matched – the giraffe chomps on hay and the monkey loves his bananas.  Three other games star the African animals, and one doesn't even show the animals (but it's still fun).  In that game players can set off noisy fireworks that explode into different colors.  We loved playing this min-game the most but that's probably because it was also the noisiest.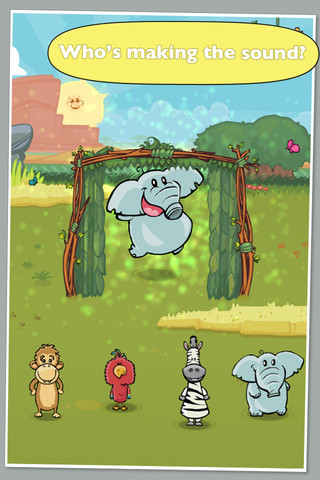 While Little Lion is a solidly executed app without any technical flaws, it still lacks a certain something.  The framework is there for this game to become something a little more engaging.  Overall the mini-games successfully teach players about animal sounds and diets, and the app can be played and enjoyed across a range of ages.  As the app stands right now, I would skip the download as $1.99 is a little steep for this bare-bones game.  With a little polishing, though, Little Lion could be a gem of a game.
Details:
– 6 different Games!
– Very easy to use!
– Without goal oriented design – use it like a toy – fun without stress!
– Amazing artwork and sounds!
– Full ipad3 and retina support!
– Full iPhone 5 support!
– Kid-friendly interface!
– No third-party advertising.
– No in-app purchases.
Pros:
– Cute, cartoonish animal characters
– No written directions – perfect for non-readers
– Pressure-free, open-ended game play
Cons:
– We walked away from playing this app saying to ourselves, "That's it??"
– Content is limited and game play can be confusing, especially for young players

Price: $1.99
Age: 2+
This simply basic app will provide entertainment for even non-reading players.
Please help support iPadKids by downloading the game via the App Store icon below!