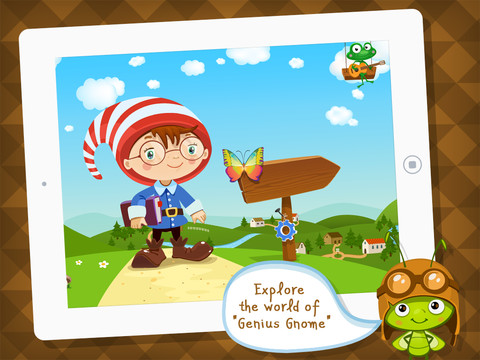 Every parent thinks that their kid is smarter than the other kids on the playground.  It's one of those inevitable side effects of raising children, like gaining a few pounds or forgetting what a clean car looks like.  Truth of the matter is that genius babies are stuff of movies, and while today's generation is incredibly tech-savvy, there's a lot to be said about traditional learning methods.
Little Genius is an app that embodies the best of both worlds.  There are twelve levels, each with 4 different games that develop skills in the preschool crowd such as hand-eye coordination and memory retention.  Players learn by trial and error without written instructions, and that means the non-readers can play as well.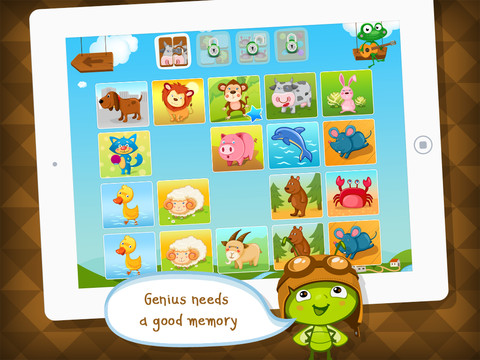 Within each level the four games are intuitive and get more difficult as the player learns and develops.  The first game gets kiddos warmed up by simple matching of animal pictures.  Counting, hand-eye coordination, and color recognition are addressed with the other three games.
My 5-year-old loved this game and whizzed through the levels.  He quickly learned what he needed to do to advance and the increasing difficulty kept him engaged and challenged.  While watching my 3-year-old easily caught on to what her brother was doing and when he was done with the iPad she took over and was able to play without frustration.
Little Genius is big learning fun, and the $2.99 price point makes it affordable too.  If you have a preschooler in the house  this app should definitely be in your iPad library.
Pros:
– Four different games in 12 levels get harder as the levels progress
– Intuitive user interface means it's easy for younger players to enjoy
– No written instructions so there's no reading required to play
Cons:
– The levels could get a little repetitive for players on the older end of the suggested age range

Price: $2.99
Age: 2-4
Your little genius will love this easy, fun app
Please help support iPadKids by downloading the game via the App Store icon below!