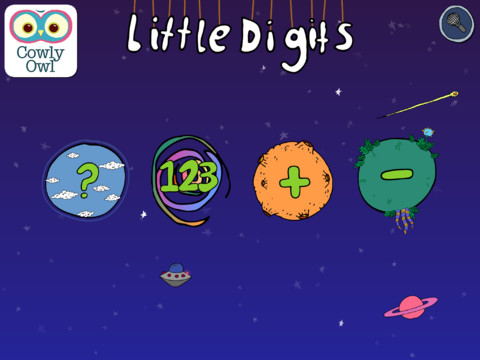 Both of my kids love to show everyone how old they are by holding up their fingers.  My son is pretty stoked that his whole hand goes up now that he's 5 and my daughter is just getting the hang of sticking up 3 fingers (her birthday is a week away).  The kiddos learned to count the way most of us have – with their fingers.
The smart folks at Cowly Owl know that the finger-counting method is foolproof and released Little Digits.  Early learning math is taught by using the player's fingertips on the screen.  Addition, subtraction, number order and recognition using numbers 1-10 are all taught within the context of an easy-to-use app.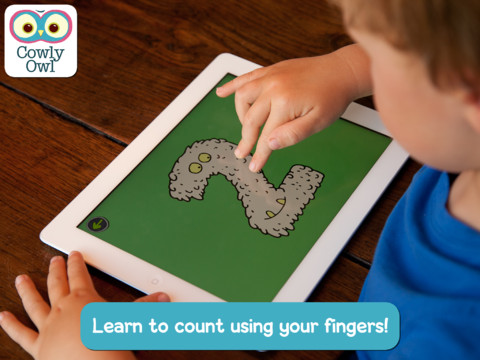 There are four modes to play in the app; addition, subtraction, and two different ways to teach number recognition.  In the first two modes different equations are presented with a variable missing and needs to be solved by placing the right amount of fingers on the screen.  The third mode presents the player with a digit that needs to be represented by fingers, and the fourth mode will verbalize the number of fingertips placed on the screen.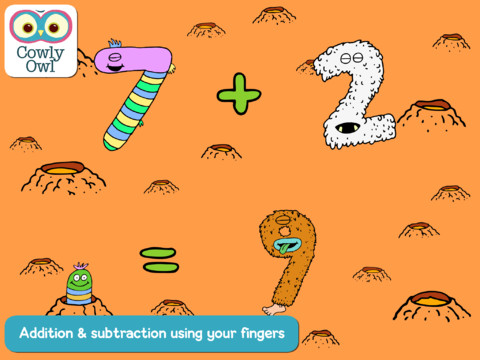 My kids – wh0 make sure to touch EVERYthing EVERYwhere – loved this app.  They both appreciate hands-on learning and at the risk of sounding silly this app is as hands-on as they come.  My daughter loved the number recognition modes and my son really excelled at addition and subtraction.  He had previously gotten frustrated when I tried to show him how to add and subtract on his hands – without the iPad.  Something just "clicked" for him when he played Little Digits.
Little Digits is a great download for helping to teach your kiddos the basics of early math, from toddlerhood through the first few years of school age.  At $1.99 it's a nicely-priced app, especially if you have a tech-savvy kid who doesn't quite "get" math yet.  I can tell you that we'll continue to use this app for a while longer, at least until we start counting past 10 and need to use our toes.
Pros:
– Teaches basic fundamentals of early learning math
– Reinforces number recognition & finger-counting skills
– Game play is as simple as placing fingertips on the screen
Cons:
– None; we had some big fun with this app


Price: 1.99
Age: 3-7
Your little one will love playing Little Digits to help learn to count
Please help support iPadKids by downloading the game via the App Store icon below!