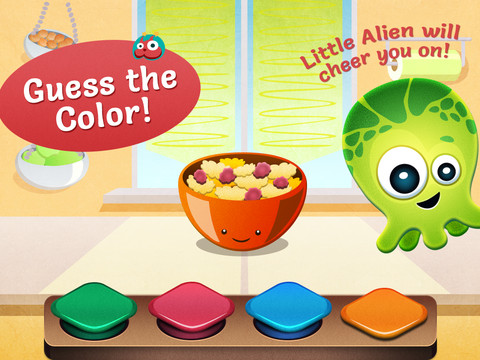 Preschoolers respond well to positive reinforcement within a learning environment, and our Free App of the Day utilizes that concept to keep players engaged. Little Alien features 5 recognizable "worlds" with 5 age appropriate mini-games in each and the star of the show (Little Alien himself) cheers on your kids at every step of the way.
iTunes Description:
Little Alien is curious about the world, just like your preschooler! Let them play together and learn on the way. Join in the game yourself and see how your little one is learning.

Made for preschool children, Little Alien does not have any countdown, scores track or losing lives. It plays out in a loop and there are no accidental in-app purchases.

FEATURES:
– 5 beautiful worlds: Playground, Kitchen, My Room, Street and Winter Wonderland
– 5 different games in each world: Color, Shape, Memory, Puzzle and Size
– Over 30 cute items and characters encountered in the games
– Interactive and exciting backgrounds in each world
– Child-proof interface
– Parents Corner for sound settings
– No in-app purchases!

We know that children like to tap all over the screen, that's why we made all the backgrounds interactive and fun. Every tap is a new discovery!

Little Alien flies over 5 different worlds and challenges you with 5 different games in each:

1. Guess the Colors
2. Match the Shapes
3. Memory
4. Puzzle
5. Match the Sizes

The easy-on-the-ears music keeps rhythm in the game, but can be turned off, just like the game sounds. It is all about gently cheering on while learning and having fun!

Thank you for checking out!

Your Space Squirrel team

ABOUT PRIVACY
We at Space Squirrel care about and protect your privacy and the privacy of your child.

Little Alien:

– Does not gather nor share your personal information.

– Does not include ads, or in-app purchases, and there are no links to external sites
*Free Kids App of the Day is on ongoing series on iPadKids where we hand select a free app to be featured every day. We can only guarantee that the app was free at the time of publishing, so get in quick so you don't miss out!