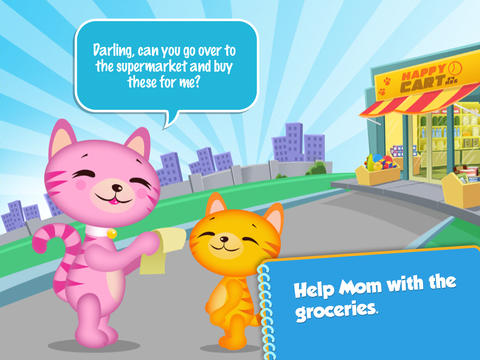 The thought of having to take my two small children to the grocery store makes me break out into a cold sweat.  Between hanging on the end of the cart ("I'm a trash man, Mom!") and sneaking candy and some blue cheese – true story – into the basket, a twenty-minute trip turns into an all day excursion.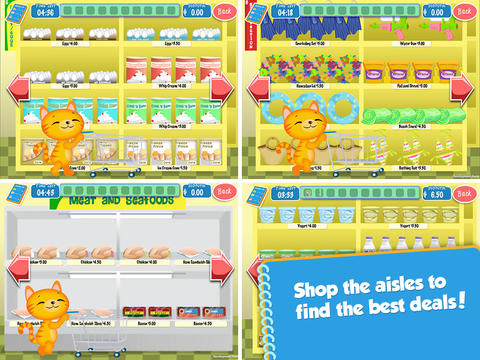 Lil' Kitten Shopping Cart is like a virtual trip to the supermarket, minus the panic attacks and day sweats.  More importantly, it helps to teach kiddos about saving money, staying organized, and number recognition.
Mama Cat needs some help shopping and has enlisted Lil' Kitten to get a few items on her list.  Lil' Kitten has to navigate the aisles making sure to choose only what's on the list.  She has to be careful, though, because she has a limited budget, and whatever she saves can be used towards a toy of her choosing.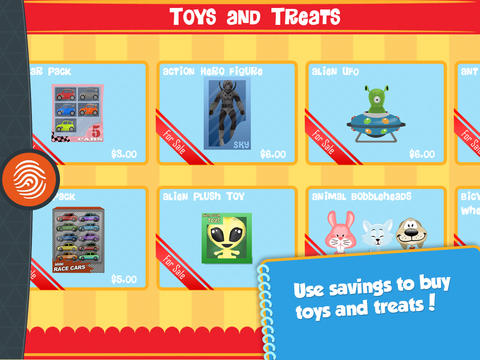 The concept of this game is pretty solid but the execution leaves a little to be desired.  My 3- and 5-year-old loved the bright, cartoon-y graphics and both appreciated the idea of autonomy – being left to make some big grown-up decisions like which cupcake is less expensive.  But the game play requires some reading so the three of us played the game together.  (It's not like parent participation is a bad thing, though.)
For $2.99 this app has a lot of really good educational content, but it's definitely not a game that non-readers can play alone until they get the hang of playing.  It might also make trips to the supermarket with your kids a little less like torture.
Pros:
– Fun, vibrant graphics appeal to a young audience
– Teaches important skills such as budgeting and organization
– Features access Fingerprint Digital's award-winning network
Cons:
– Non-readers will need some help to get started

Price: $1.99
Age: 4+
Let Lil' Kitten help teach your lil' ones some important lessons!
Please help support iPadKids by downloading the game via the App Store icon below!