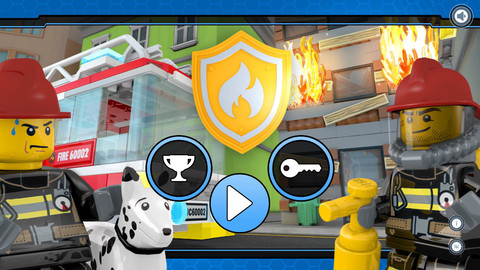 LEGO building blocks have been around for decades.  I remember playing with the tiny bricks with my brother, who amassed a collection that would make Toys R Us jealous.  Over the time the brand has really evolved, offering everything from gender-specific colors to kits that allow you to assemble an entire city.  LEGO fans can now move away from the floor and into the virtual world, with online and downloadable games and movies.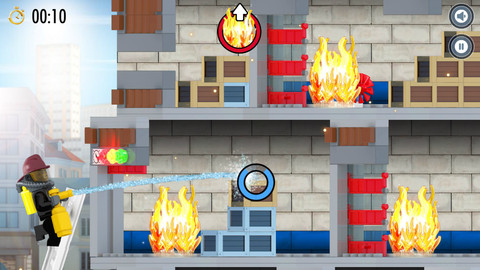 LEGO City Fire Hose Frenzy brings the blocks to the iPad in a fun, action-packed game.  The whole city is engulfed in flames and it's up to a tiny LEGO firefighter and his dog to douse the flames with the fire hose.  Players help out by directing the stream of water – moving the truck ladder up or down or bringing the hose closer or further from the blaze.  Windows, walls, tall buildings and more are all obstacles that need to be overcome to make sure that the fire is out.
Sound effects are exciting, if not a little loud, with fast-paced music and realistic sirens.  The animated city built entirely of the blocks is colorful and fun, and little details pop out with every level.  When the fire truck isn't enough to battle the inferno a helicopter swoops in to finish the job.  A trusty dalmation helps the firefighters as they work to put LEGO City back in order.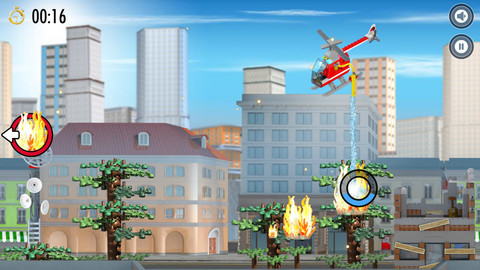 We love this game, and it's as fun for me as a grown-up as it is for the two kiddos.  Both can play easily and they actually help each other play without (very much) fighting or whining.  Once they figured out the physics-based game play they had the skills they needed to navigate through the game.  Every once in a while they asked for a little help past the first level, but just watching me play for a minute helped them to figure out some really tricky angles.
Fire Hose Frenzy has all the makings of a five-star app.  It's free, fun, and easy for a range of ages to enjoy playing.  Besides the slight challenge for younger players on the higher levels, this app is a home run.  Much easier to clean up than the "real" LEGO blocks, and there's no risk of stepping on one.  Ouch.
Pros:
– Physics-based action game keeps little ones busy and entertained
– Brings the popular building block toys to the virtual world
– No reading required, all ages can have fun playing
Cons:
– Some levels can be challenging so be prepared to help a little

Price: FREE
Age: 2+
Don't let the heat get to you in this busy and exciting game featuring popular LEGO® characters.
Please help support iPadKids by downloading the game via the App Store icon below!