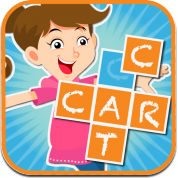 The creators of the popular 'BOB Books' app, Learning Touch, has yet another incredible product for children who are beginning to read. The  Kids Crosswords app is exactly what you think: Mini-crossword puzzles for kids!
The app takes 100 of the easiest-to-read words and mix matches them into over 10,000 different crossword puzzles! Children will not only benefit from the introduction to new words, but also from the crossword puzzle concept itself.
Though it may sound a bit complicated for younger children, the Kids Crosswords app is extremely easy to navigate and interact with. Traditional finger-swiping motions act to move the letters around the screen. Icons are provided onscreen to allow children to easily return to the home screen or to skip ahead to the next puzzle.
Since this app is geared toward beginning readers, the crossword clues are not traditional written ones, but small pictures that appear alongside the space provided for the letters.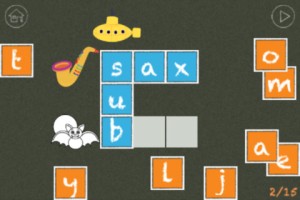 When an incorrect letter is placed in one of the slots provided, a sound-effect lets the child know the letter is not correct and it is automatically sent back to its place with the other unused letters. This makes game-play for very young children much easier and promotes learning by correction.
With Learning Touch, you never have to worry whether or not your child is learning while they play. Their websites assures this by saying, "Our goal is to create the highest quality games for toddlers running on the iPhone or iPod Touch. We are making games that are fun and smart, that are entertaining and educational. We are making games that let kids explore, games where there are no wrong moves, but where the right move will reveal, reward and teach."
The Kids Crosswords app by Learning Touch is available for download for both iPhone and iPad via the Apple iTunes app store for $0.99.