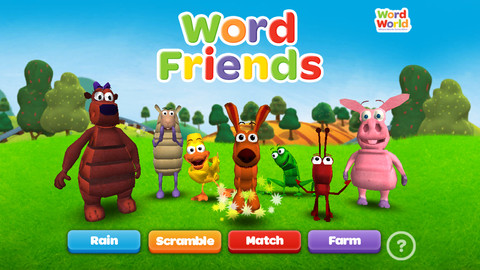 Like so many families are doing these days, we decided to forego paying premium prices for satellite or cable channels (before football season started, of course).  The choice for us was primarily budgetary, but we also liked the idea that not having 20-ish kids' channels would limit the kids' TV time.  Because our local channels came in crystal clear we watched a lot of the area's PBS affiliate, and to our surprise the kids loved the programming.
One particularly fun show was WordWorld, based on a barnyard full of talkative 'toon animals  who teach preschoolers using characters and objects that are actually crafted from the letters in their names.  Duck's head is actually the letter "D" and Sheep's rear end is made from the "P" at the end of his name.  Even the red barn they live in has an "R" silo.  Every new object that's introduced is the same way – constructed into a recognizable shape by bending and arranging the identifying word.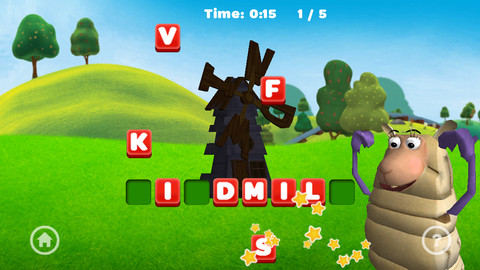 Learn With WordFriends is a companion app to the show and allows preschool-aged players to learn pre-reading and early literacy skills while playing any one of three fun and easy mini-games.  In WordRain letters fall from the sky and little fingers have to match the letters to the object shown to build the word.  WordScramble is pretty self-explanatory; scrambled letters must be rearranged into the proper spelling.  The third game is WordMatch, a memory-matching game using tiles with word objects.
My two-year-old didn't have the skills to play this, and my 5-year-old who is already pre-reading had a little bit of trouble playing this without my occasional help.  Like most preschoolers he tends to give up easily on projects that are just out of his grasp of understanding, but the skill level might be better for early readers or kids in their first year of school.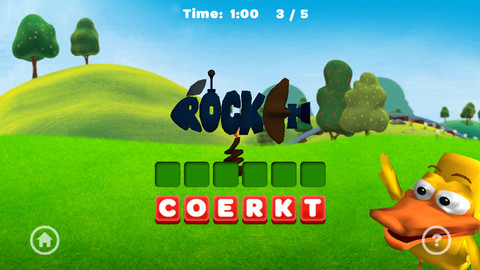 I also didn't like that only one character was available with the free download.  The remaining six animals needed to be purchased for $0.99 each, and with no discount available for downloading all at once, that can really add up.  Having all seven doesn't add levels to the app or unlock any secrets, and they don't even interact with each other.
The concept of this game is great and has some merit as the original PBS series is an Emmy award-winning success.  Something must have been lost in translation when developing this game.  It's fun and easy for little players, all while teaching basic letter recognition and world building, but the content is sparse.  Skip downloading this memory-eater and look a little more if you're trying to find a comprehensive pre-reading app.
Pros:
– Based on the award-winning childrens' educational television series
– Bouncy music and bubbly graphics catch the attention of young players
– Teaches pre- and early-reading skills in a fun, easy way
Cons:
– Content is severely limited and in-app purchases can really add up

Price: FREE
Age: 4+
Get ready to take a trip to Hollywood because this app will make your kiddo think they're a star!
Please help support iPadKids by downloading the game via the App Store icon below!