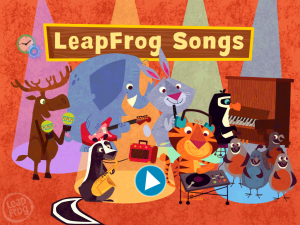 These crazy creatures make it so much fun to sing along!
Price: $0.99
Age: 2-5
The app is ideal for toddlers – older players may become bored quickly.
Pros:
– Super simple tap-and-play interface
– Music is comprised of well-loved childhood favorites
– No pressure of time limits, point scoring, or levels
Cons:
– Although touted as "educational", there is little more to this app other than funny animals and easily recognizable music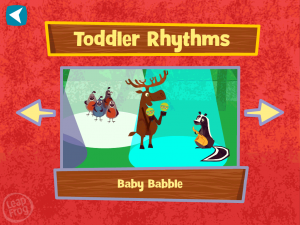 LeapFrog has been a household name for years when it comes to interactive educational technology.  The company's LeapPad has somewhat of a cult following – many parents will agree that it is the quintessential supplemental learning tool for the 4-9 age group.  Although their reputation was built around their actual electronic items (tablets, hand-held gaming devices and electronic readers) LeapFrog understands the growing popularity technological teaching tools beyond their own.  Offering an app center through their company website, both iOS and product-specific apps are available  download, and players can also find LeapFrog apps to download directly from iTunes.
LeapFrog Songs: Toddler Rythms is one such app that is rising on iTune charts since being released a little over a year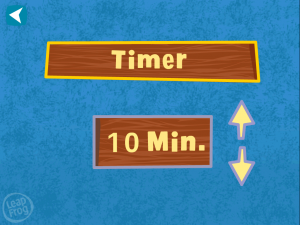 ago.  Featuring zany animal musicians and a repertoire of 15 bouncy nursery rhymes, Toddler Rythms is a fabulous way to keep toddlers and preschoolers singing for hours.
Playing is incredibly easy.  My 2-year-old instantly knew to press the triangle "play" button on the home screen, which brought up the list of songs from which she could choose.  Left and right arrows changed the selection, and when she found which one she wanted she just tapped the picture.  The song began immediately and she tapped on any one of the different players to highlight their particular part in the song.  My favorite feature was the timer I could set for her to play the app to help limit her "screen time".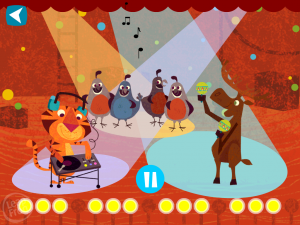 The songs are described in iTunes as being chosen for their underlying educational value, but without any kind of visual reinforcement, it's hard to play this app for learning.  It is, however, a fun and engaging app for kids – my daughter played one song over and over for at least 45 minutes.  This is definitely not a game, and for the target age group that's great, as it's free of frustrating distractions such as points or time limit.  For just $0.99 it's a great little app for players who are beginning to love music and sing-alongs, but don't expect it to raise your little one's IQ.
Details:
– Universal app for iPhone, iPod or iPad
– 15 sing-along songs explore letters, counting, colors, shapes, feelings and more
– An interactive animal orchestra that reacts to every touch
– A toddler-friendly interface so little ones can play all by themselves
– Parental control timer