App Developer, Common Sense Media, has released their newest App, 'Kids Media' is hopes of aiding parents in choosing age-appropriate media for their children.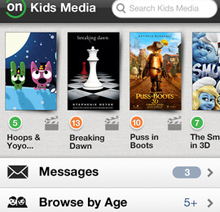 Many parents will admit that it would be extremely difficult to keep up with every television show, video game, movie, website, and book that their children want to watch, play, or read. Even if they tried, most parents would not have the volume of time required to review the content of each piece of media before allowing their kids to view it. This is where the developers at non-profit Common Sense Media come in.
With the release of their latest app, Common Sense Media has enabled parents, with the touch of a button, to choose the best, age- appropriate media outlets for their children. The 'Kids Media' app lets even allows parents to build custom profiles for each child. This enables personalized media recommendations based on age and preferred media type.
Media is rated based on learning-potential, and age appropriateness. 'Kids Media" also weighs violence and language objectively and provides a rating of either ON (indicating a good media choice), OFF (indicating a bad media choice) or PAUSE (indicating a need for parental guidance).
As an added bonus, just in time for the holiday shopping season, the 'Kids Media' App has a bar code scanner that allows parents to scan movies, books, or video games while shopping in-store to receive feedback on whether or not the gift will be age-appropriate for their child. President and COO of Common Sense Media, Amy Guggenheim Shenkan,  praises the 'Kids Media' App capabilities by saying: "As the holiday season approaches, kids will be clamoring for media gifts. From tablets to handheld game consoles, and from personal DVD players to MP3 players, there are more choices than ever. The new 'Kids Media' App gives parents instant access to the trusted ratings, reviews, and recommendations they need to make great media choices for their kids – both at the holidays and throughout the year."
In addition to the App, all of the same great ratings and reviews can also be accessed online at the Common Sense Media website.
The 'Kids Media' App is now available for free via the iTunes App store.