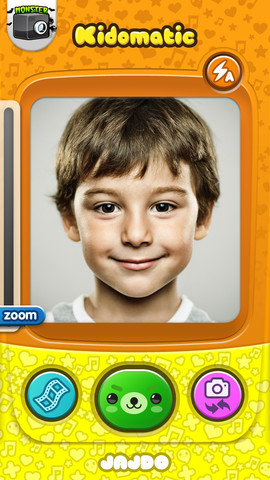 If you were to pick up our iPad and scroll through the gallery, there are several categories of images that you would find.  The most popular are the dozens of pictures of my children's feet – my son likes to photograph his little piggies as they go wee-wee-wee all the way home.  Second on the list is the groups of wacky faces, cropped to show a quarter of a forehead or a close-up of an open mouth.
Needless to say I almost jumped for joy when I discovered Kidomatic.  Not only does it allow the kiddos to personalize their photos with different graphic additions, but it also helps teach the phonetics of the alphabet in a sneaky yet fun way.  It allows the younger set to easily navigate through a photo editing app with very little frustration.
Little ones can still snap photos until their heart is content, but with this app they can also add adorable stickers, frames, and paint-style artwork with different brush styles or pencil lines.  My daughter loved putting cartoon mustaches on pretty much everything in the picture and my son decided that his artwork could only be complete with the letter "T" everywhere.  He knew which letter was which because the game speaks the name of each out loud.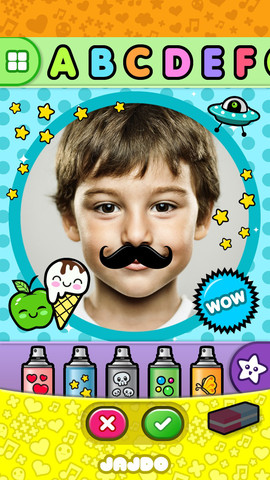 There are a lot of photo editing apps on the market with extensive options and intricate menus, but this is the first that is really suitable for the toddler and preschool crowd.  There is no reading involved and each of the drag-and-drop stickers are easily enlarged or rotated.
While the initial download is free, the different themed versions are $1.99 each, and available for download as soon as you open the app.  You may find that this could present a problem in the form of begging, pleading, and possibly tantrums if you decide not to buy the Princess Kidomatic.  The "regular" version is still a fun and easy app for your youngest budding photographer, and it may help reduce the number of toe photos you're saving in your gallery.
Details:
– Child-friendly menus
– Add fun stickers on top of your pictures
– Place beautiful frames over your photos
– Use the spraypaint, pencils and brushes to make your image even more personal
– Sticker book functionality
– Drag'n drop letters with phonetic representation
Pros:
– Easy, large interface to help little fingers create
– Interactive sounds reinforce letter recognition
– Creations can be saved and shared via e-mail or social networks
Cons:
– Specialized versions are featured in the main screen and can really add up if you download all

Price: FREE
Age: 2-6
This app is a new and exciting way to fine-tune math learning in a familiar board game layout.
Please help support iPadKids by downloading the game via the App Store icon below!