You know it when you feel it. iPad guilt. It's that feeling you get when you hand the iPad over to your child so that you can cook dinner, read a book, go to the restroom without someone shoving their hands under the door, shave your legs, or any number of other sanity-saving activities. Yes, every parent needs a moment to themselves, but some of us still feel guilty for using the iPad as an unsupervised babysitter. Well, no longer!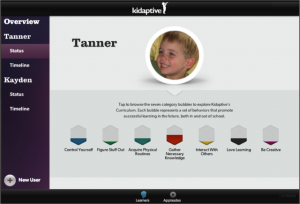 App developer known as 'Kidaptive' is launching an amazing feedback tool for parents called "Parent's Pad" that allows parents to track and analyze their child's learning abilities and development by simply letting their child play with the iPad. Kidaptive is so promising because it turns screen time into learning time that can be tracked by parents. A TV-like setting makes the app fun for children and guilt-free for parents! As most parents can attest, the iPad babysitter situation usually leaves parents with no idea what their child is learning. Kidaptive solves all of this by walling off a parent section of the app that summarizes how their child is doing in areas such as reading comprehension, sharing, taking turns, or being patient.
As a part of the "parent section" the app also shows which 'appisodes' the child has begun to view and also provides tips on how to help the child improve on the skills that are weaker. Overall, Kidaptive's app has proven to be the most comprehensive learning-tracker out there. With all of your child's progress being stored in the parent's section of the app, iPad guilt should be a thing of the past…at least long enough for you to hide in the closet and eat a chocolate bar without having to share (don't ask me how I know!).
Source: TechCrunch