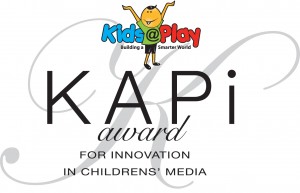 As a lover of children's apps and technology, I always look forward to the announcement of the winners of the annual Kids At Play Interactive (KAPi) awards. This years winners will be announced today the annual 2013 Consumer Electronics Show in Las Vegas, Nevada at 7pm.
Judges for the KAPi awards reviewed 712 different pieces of interactive children's media (mostly kid's apps) considered appropriate for ages birth through 15.  The judges, of course, are journalists and experts in children's media. Out of the massive amount of nominees, judges narrowed them down to 10 winners! Here's are a few spoilers for you in the children's app arena:
Top Pioneering Team: Toca Boca- All I can say is,"YES!" and  possibly "WOOHOO!" Every parent who has ever picked up an iPad or iPhone with their child knows and loves Toca Boca. From their innovative ideas (Toca Tailor, anyone?) to their absolutely gorgeous illustrations, it is so easy to see why the Toca Boca team won this category.
Best Younger Children's App: Letter School- This app, by Boreaal Publishers, is nothing short of fantastic. Teaching letter formation and recognition to young children is a daunting task at best, but this app eases the burden. It has won many accolades in addition to this one, including 'Best Educational App' from about.com. At 2.99, its a steal and totally worth it for any parent of preschool/kindergarten age children.
Best Older Kid's App: IMAG-N-O-TRON- The brainchild of Moonbot Studios, IMAG-N-O-TRON takes the award for Best Older Kid's App. Quite possibly the most interactive app that I have ever encountered, IMAG-N-O-TRON is really something you have to use to believe. After purchasing the companion book, The Fantastic Flying Books of Mr. Morris Lessmore, the app can be pointed at the pages for an insanely fun and interactive experience.
KAPi does an incredible job of searching out the top dogs in children's media and giving them the recognition they deserve. Any KAPi award-winning app is sure to be a child and parent pleaser. Check them out today!
The rest of the KAPi award winners can be viewed here.
Source: http://www.sfgate.com/business/prweb/article/Living-in-Digital-Times-and-Children-s-Technology-4151614.php