Julianne Moore not just an incredible actress, as she has also earned the title of accomplished children's author. Her best-selling book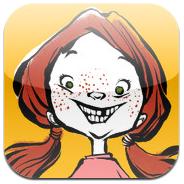 series called Freckleface Strawberry features an adorable red-haired, freckle speckled 7 year old girl who loves adventures, monsters and her best friends. Now, Freckleface Strawberry has her very own app story, complete with monster-building game!
'Freckleface Strawberry Monster Maker' is an interactive storybook that also comes with a complementing game. Children will interact with Freckleface Strawberry as she tells a story about her favorite game: Monster! In addition to the story, kids will get the opportunity to build monsters of their own with the 'monster maker' feature. This combo is really a bang for your buck because it is essentially two apps in one!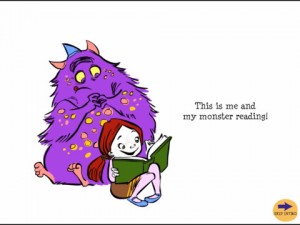 Sporting endless 'monster parts', the monster maker feature will keep your children busy for hours while they create and build their own unique monsters! Freckleface Strawberry offers her guidance and encouragement as children use their creativity to create 'monster best-friends'. From within the story, she prompts children to choose their favorite monster body-shape and subsequent facial features and limbs. There is even a fun 'snapshot' feature that allows the player to take a photograph of themselves with their monster creations. These photos can be saved and shared with friends and family and, after sharing, the unique monster photo can be added to the child's photo collection.
Freckleface Strawberry Monster Maker is the ultimate blend of both story and game. The app not only encourages a love of reading and stories, but also allows children to play the app long after the story is over by utilizing the monster maker feature.
Julianne Moore's 'Freckleface Strawberry Monster Maker' app is available for download via the Apple iTunes App Store button below for free! This app is compatible with iPad only and requires iOS 6.0 or later to operate.