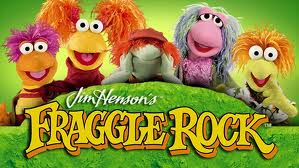 Fraggle Rock has been staple entertainment through many childhoods, including mine. Now, as Fraggle Rock turns 30 (what!?), Jim Henson's company has licensed app developers, Cupcake Digital, to re-create several Fraggle Rock episodes and morph them into enhanced storybook apps.
This Spring, Cupcake digital will be celebrating Fraggle Rock's birthday by bringing interactive 'appisodes' to existing fans as well as younger, new ones. The apps that are slated to be re-imagined include: 'No Fraggle is an Island', 'Mokey's Flood of Creativity', 'The Best of the Best', and 'The Great Radish Roundup'. All of these story-apps are projected to be developed and released in 2013 and will be available across a wide range of platforms including: iOS, Android, NOOK, and Kindle Fire.
Susan Miller, President of Cupcake Digital, had this to say about the upcoming project:
Fraggle Rock has an enduring quality that has stood the test of time among parents who are eager to share the stories with their young children.  We are excited to be able to introduce the characters, their complex ecosystem and, most of all, the great music, in this new medium. The stories of Fraggle Rock, the animated series, have a contemporary relevance that is perfect for engaging today's kids in an interactive story experience infused with learning moments.
Cupcake Digital has always done an excellent job in delivering quality, fun storybook apps to their fans. Professional narration, beautiful graphics and 3 different story modes are just a few of the trademark features that Cupcake Digital includes in each and every storybook app that they produce. Employees of The Jim Henson company seem very enthusiastic to work with Cupcake Digital on the Fraggle Rock endeavor. Here is what Melissa Segal, Executive Vice President of Global Consumer Products for The Jim Henson Company, had to say about the partnership:
The team at Cupcake Digital has demonstrated a great affinity for Fraggle Rock and its original vision. It seems fitting that, as we celebrate 30 years of this great property, we have the opportunity to give it new life in a relevant and engaging way via these enhanced story app experiences. Loyal fans around the world have never stopped rocking along with Fraggle, and they will love that the spirit of the show and the music that is so much a part of the experience are fully captured within these apps.