Keeping children engaged in the events that surround them while shielding them from news that may be age-inappropriate can be a difficult task for even the most vigilant parents. While recognizing the need for children to be aware of world events, sometimes parents wonder if it is really worth the effort. Luckily, for children and parents in Japan, there's an app for that!
App developer, Dentsu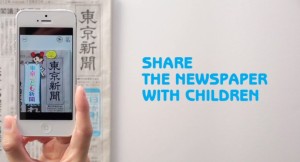 , was asked to come up with a way to get younger readers more interested in newspaper-reading. What they came up with is a completely unprecedented 'Augmented Reality'(or AR) news app that allows children and their parents to scan articles from the paper with their smartphones and receive an altered, kid-friendly version of the news, complete with animated characters.
Since the app's creation, Japanese newspapers are printing their child-appropriate articles with a blue border to make spotting and scanning easier for children and parents alike. When parents encourage their children to scan the child-friendly articles, animated characters, pictures and headlines will spring forth from the page.  Simplified explanations of the article in question will pop-up as well, making understanding the news a little easier. The app even replaces the more complicated 'Kani' version of the Japanese alphabet with the more simple and easy to read Hiragana characters for children who are just learning to read.
While the campaign is intended to up readership for Japan's newspapers, the AR News app is an excellent way for parents to enjoy the news with their children and to help engage youngsters in current affairs that might otherwise be over their heads.  In a digital world, it is essential for newspaper media to span the generational gap in order to survive. Japan has made a huge step toward that goal and we can only hope the U.S. will soon follow suit.
Source: Springwise
Click here to see a demonstration of how the AR News app works!