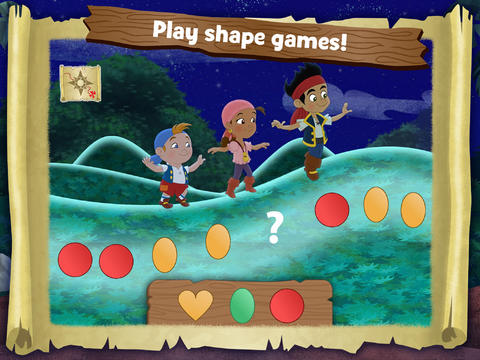 Shape recognition is an integral part of building an early learning math skill foundation.Yesterday my 5-year-old and I were having a contest to see how many shapes we could make by arranging our fingers together.  Diamonds, squares, and circles were easy – it was the hexagon and isosceles  triangle that proved to be tricky.
Luckily for us – and other families that have been confronted with the menace of complicated finger shapes – there's Jake's Never Land Shapes and Patterns.  Now fingers are used for tapping and swapping, eliminating the need to contort digits into impossibly geometric configurations.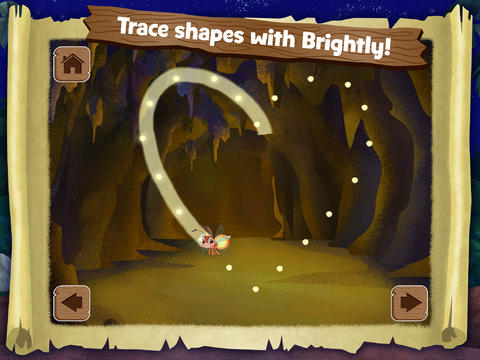 I write this all tongue-in-cheek, but this particular app goes back to my original statement about shape recognition and its importance in building early math skills.  Using popular animated characters from a Disney franchise, Shapes and Patterns offer young players three different minigames to keep little ones engaged and learning.
Choose Twilight Treasure Hunt for a scavenger hunt that offers a chance for both shape and word recognition.  Jake's Shape Games let little fingers draw shapes or choose pattern sequences.  Pirate Puppets is a fun way to spend the gold doubloons earned by playing the other two games, and little ones can watch as their puppet does a jig and repeats a recorded phrases.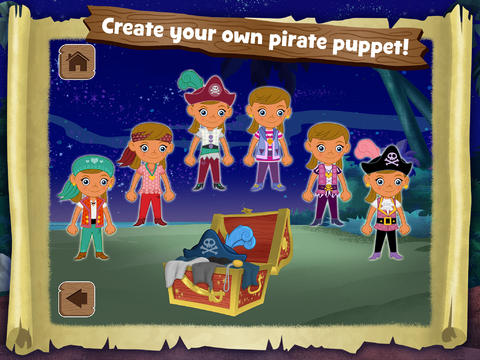 Both of my kids – 3 and 5 – love the Disney series on which this app is based, so it's no surprise that they love this app.  They play it sitting side-by-side, and while my oldest knows his shapes by youngest is still learning.  Since playing this app she has been (quite loudly) pointing out the same shapes in our every day routine – "Mom, the window is a square!".
At $4.99 this game is a little on the steep side for an early-learning curriculum supplement, but in the world of Disney apps it's quite fairly priced.  It's definitely packed full of educational content, and it's a small bounty to pay for such a pirate's chest of shape-learning treasure!
Pros:
– Features recognizable characters from a Disney TV series
– Offers early learning skill building for shape and word recognition
– Both content and game play are age-appropriate
Cons:
– None – we say "aye, aye!" about this app

Price: $4.99
Age: 3-7