New reports comprised of data released by KinderTown, an educational app locator for parents of small children, suggest that the iPad Mini is quickly becoming the most preferred tablet for children. This conclusion was reached after KinderTown noticed a significant leap in iPad Mini users downloading their app after the holiday season. This clearly suggests that lots of very excited children got an iPad Mini for Christmas in 2012. And why not?  The iPad Mini is an excellent choice for parents who want to invest in a quality product, while scaling it down, size-wise, for little hands.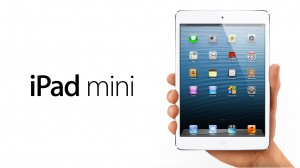 The data used in the report was pulled from the app developer's 200,000 users, which is a substantial sample size to say the least. KinderTown noted that there is usually not a large fluctuation of different devices using their app from week to week. After Christmas, however, the iPad Mini jumped drastically in numbers.
Although this might be expected around the launch of any new devices, the vast numbers that began using KinderTown suggests that these iPad Mini's were likely purchased for children during the 2012 holiday season.
There was also a pretty clear indication that older iPads are being handed down to children as their parents received new devices over the holiday season, as well. KinderTown reported a surge of new iPad 1 usage after the holidays, suggesting that older iPad models that once belonged to mom and dad are now in the hands of their children.
In total, KinderTown users upper their iPad Mini usage by a whopping 270% after Christmas 2012 ended. That, in comparison with the 4th generation iPad's increase of only 190%, leads KinderTown's data analysts to believe that iPad Mini's are being purchased more often and especially for children.
If the trend continues as KinderTown's data suggests, the iPad Mini will rapidly become the top tablet for children everywhere.
Source: TechCrunch