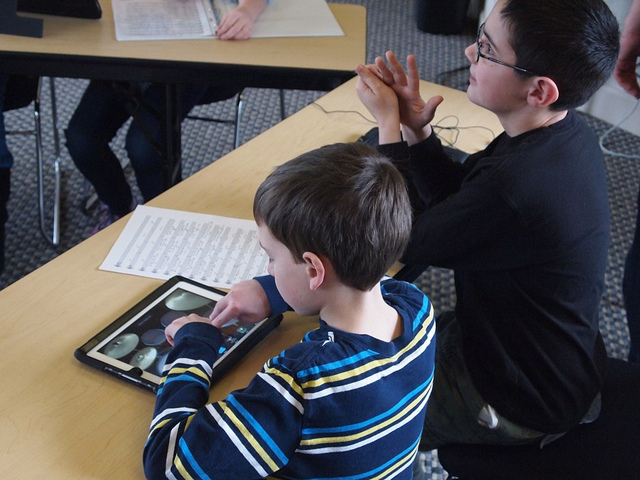 The iPad is unbeatable when it comes to consuming content, but just how good is it for creativity? With an unrivaled app store, iBooks and iLibrary, iTunes, and now Retina display on the fourth-generation iPad for high-def video, kids can (and do!) spend hours drinking in all the iPad has offer. But kids are also known for their imaginations and ingenuity, and kids with iPads are no exception! Check out some of the awesome and impressive creations kids are making with their iPads.
Art: The iPad comes with a wide variety of both free and paid apps for drawing, painting and more. Kids love to fingerpaint, and the iPad provides the perfect mess-free way for little fingers to create stunning visual creations. This young boy has learned how to expertly transfer his drawing skills onto the tablet:
Here's another great example of what kids can learn to create using the iPad: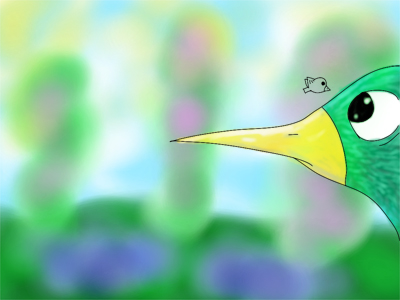 Drawn by 13-year-old Kaeli, this image's selective focus on the foreground, use of highlighting on the larger bird's beak and feathers and humor are eye-catching and unforgettable.
Music: The iPad is a great interface for creating music, and with fantastic apps like GarageBand nearly anything is possible. Popular band The Gorillaz even used the iPad to record their album "The Fall"! Kids have caught on to how easy it can be to make music on the iPad and are pursuing all kinds of creative endeavors in this field. Take a look at this group of students performing Train's hit song "Drive By":
Some of the students in the video above had never even played an instrument before this, and were able to learn and perform the song in a span of only three hours. Imagine what a kid with an iPad could create during countless hours of experimentation and fun, alone or with a group of friends! Recognizing this potential, more and more school bands are starting to pull iPads into the rotation, including the Frisco School of Music. Take a look at these talented young people recreating the Beatles hit "Hey Jude" using iPads:
Games: Using apps like My Doodle Game, kids can also create their own iPad games. My Doodle Game is free to download, and lets kids doodle anything their imagination can come up with using a wide variety of drawing tools. Once the drawing is complete, they can go back to the beginning of the drawing and let a game character travel through the world they've created. Not only is this a great creative outlet, but it can also be an excellent learning tool to help kids visualize and reenact historic or popular events using the iPad! For example, this girl used the iPad to create a game depicting several key events from the decade 2000-2010:
Apps: For even more advanced kids, or for pre-teens and teenagers, some are even learning to build their own iPad apps! Using Apple's Software Development Kit, teenage Carson built a mathematics app for younger students to use:
Not only was this young man able to build his own app in only 12 weeks, he also made the math app both an educational and interactive way for young kids to learn fractions. We're predicting a long and lucrative programming career in Carson's future!
School Projects: The iPad is a great resource for school as well as play. In the past, when kids needed to do a research project or create a video for school, the process was often tedious and time-consuming, and required many different tools for completion. First students would need to research their project at the library and take down notes. These notes would then be typed into a script and printed out to be read from. The kids would need to find and learn how to operate a camcorder, record their video, and then transfer it to a computer to piece it all together. After all that work, the sound and video quality usually wasn't even very good!
In today's world, the iPad has completely changed the game. With simple yet powerful apps like iLibrary, Notepad, GarageBand and iMovie, kids have all the tools they need in one place to take a project from the research to final product stages. See for yourself how this elementary school student made a professional-looking news report about the Pygmy Marmoset:
Student Animal Project – Avery from Jabari Cain on Vimeo.
As the examples above show, iPads have opened the doors of creativity and kids are pushing the boundaries of what the iPad can do every day. These days, there are apps to help children realize nearly anything they can dream up to build, design, or record. To encourage your child's creativity, listen to their interests, search the app store for simple tools that will give them the building blocks of creation, and let their imaginations run free! What will your kid create next?
[Image via Flickr.]