Ugh, the dentist. Now wait, maybe I shouldn't say it like that. I guess there are some people out there who don't mind their visits to the dentist. (I dunno…are there?!?) Confession: I haven't been in 15 years. It's not something I'm proud of, and it's probably a dry spell that's coming to an end. You see, now that I have children, I have to do this thing called Setting A Good Example. My husband took the initiative and scheduled my 5-year-old and 3-year-old for their first dentist visits. The last thing I want is for my dental anxiety to rub off on them; therefore, I decided to look into what kind of dentist/teeth-related apps are out there. My thinking is this: If going to the dentist on the iPad is fun, then surely going for real will be a blast, too. Us adults are too smart for that kind of logic, but my kids are young enough that it just might work….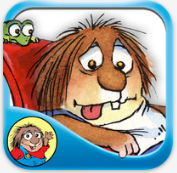 Just Going to the Dentist – Little Critter by Oceanhouse Media
The Little Critters are awesome when it comes to reassuring children about new experiences. In this book app, Little Critter is off to the dentist's office, where he bravely gets a checkup, cleaning, x-rays, and filling. This app is recommended for ages 2 to 5 and comes with Read To Me mode, Read It Myself mode, and Auto Play mode, so children of all ages can participate in Little Critter's adventure to the dentist's office. $1.99, 4+ rating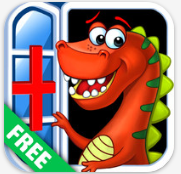 Dr. Dino – Doctor Game For Kids FREE by Avocado Mobile Inc.
Dr. Dino needs help curing 8 different dinosaurs in 8 different departments, one of which is Dentistry. Each department contains several puzzles and mini-games. You only get 2 dinosaurs and 2 departments with the free version, but for $2.99, you can unlock all the games. FREE/$2.99, 4+ rating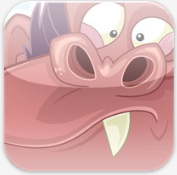 Monster Mouth DDS by Breaktime Studios
Now that your child has practiced their dentistry skills on little critters and dinosaurs, he's sure to be ready for monsters. As a dentist for monsters, your little one will be able to provide an array of services for his wacky monster patients, such as cleaning, x-rays, and extraction. FREE, 9+ rating for infrequent/mild cartoon or fantasy violence.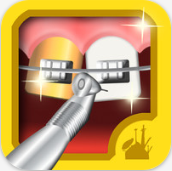 Workday Dentist by Merge Mobile
With this app, your child will be able to live the life of a dentist. Clean patients' teeth, put on braces, and drill cavities, just to name a few of the duties required. With this app, the relationship between junk food and dental hygiene is taught in a fun and unique way. $1.99, 4+ rating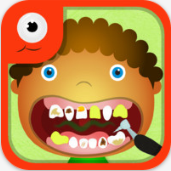 Tiny Dentist by fantastoonic
Tiny Dentist features an uncountable number of patients with dental problems. It is up to the player to fill cavities, extract decayed teeth, remove food stuck in teeth, apply braces, and use the water and air spray. With a kid-friendly interface, no third-party ads, and no in-app purchases, Tiny Dentist is perfect for the 3 and up crowd. FREE, 4+ rating