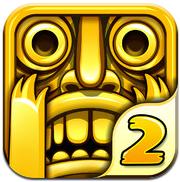 The first Temple Run mobile game by Imangi Studios has been a huge hit with kids everywhere, even though it's not technically a kids app. Now parents and kids can rejoice, because the new Temple Run 2 recently hit the app store!
Like the original Temple Run (which has been downloaded over 170 million times!), the premise of the game is fluid running and jumping to stay on track and avoid obstacles. Temple Run 2, however, is markedly different than its predecessor. Sporting several new features, I expect this version of the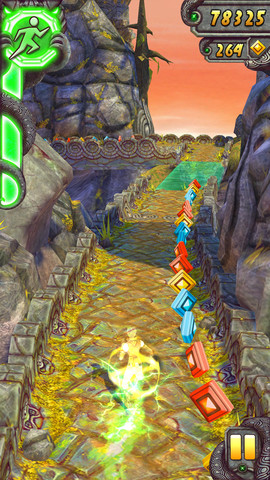 popular game to be more addictive than the first. New and improved features include:
Graphics- Noticeably brighter and crisper, the graphics in Temple Run 2 have been much improved from the original game.
Environments- Beautiful, lush new environments make Temple Run 2 gorgeous and inviting.
New Obstacles- Because your kid is probably better than most adults at jumping over those tricky holes, Temple Run 2 has added new obstacles to provide a more challenging and unique in-game experience.
More Achievements and Power-ups- Additional achievements keep the game interesting while more power-ups help you achieve faster runs and longer jumps!
Special Powers- Now, each character has his or her own special powers, adding a sense of strategy to the original game.
Gems and coins are still a part of the game, however they aren't essential to actual game play and are only used to unlock new characters and power-ups. Users aren't bothered by prompts or ads advertising their availability, making Temple Run 2 a good 'free app' choice for parents who want to avoid in-app purchases.
Temple Run 2 makes a great competitive game for families with multiple children or parents who enjoy a good competition and want to beat each others high score. Indeed, fun for the whole family!
Temple Run 2 can be downloaded for free via the Apple iTunes button below. This app is available for both iPhone/iTouch and iPad platforms.