Remember having a diary or a journal as a kid? Finding the perfect hiding place for those innermost childhood reflections was a challenging job! Under the mattress? No, younger brothers are smarter than that. Maybe on the top shelf in the closet? Maybe. It's too bad we didn't have an iPad back in those days, because keeping diary secrets safe just became a whole lot easier. Meet the iHeart Locket app with, get this, a locket key!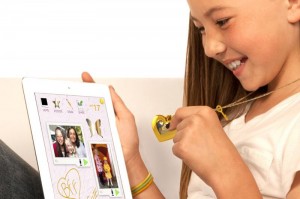 The iHeart Locket app is, essentially, a virtual diary. It allows children (targeted primarily at girls) to express themselves using an assortment of stickers, photos, drawings and recorded "voice notes". But how do you hide an iPad app from your sneaky little brother when you both use the same iPad!? The answer is a simple one: a key disguised as a heart locket, of course!
Creators of the app, Dano Toys, have designed a special locket necklace that has several features that interact with its companion app. The main locket feature is the unlocking and locking technology. With the push of a button, the wearer can lock and unlock the diary app. Ultimately, only the person with the locket can access the app. How's that for little brother security? The locket also can instantly erase writing and drawings by pressing the erase button. It also sports an adorable picture frame that holds photos that are printed out from the app.
Overall, the locket and companion app sound like a little girl's dream that provides the freedom to express aspects of their lives that they might consider 'secret'. As a parent, I may have concerns with being able to monitor my child's activity inside of a locked app, but as long as there is access to the locket, it can be opened anytime.
To purchase the iHeart Locket for 24.99, visit the Dano Toys website here.
Source: KidScreen