We have recently been covering quite a few "app compatible" toys and now we can add Hot Wheels to the list. Everyone (boys and girls alike!) loves those adorable little cars that zoom along on their signature orange plastic tracks. Even though I sometimes wish I had never seen a Hot Wheels, when I am inadvertently skating on one down the hallway in the middle of the night, parents can even enjoy building custom race circuits with their children and then launching the cars to test them out! Now, Hot Wheels has decided to add another dimension of fun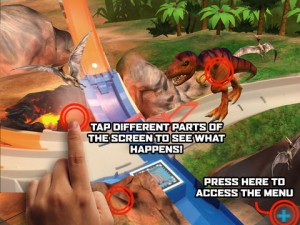 Released over this past weekend, the new Hot Wheels Power Port app is an augmented reality experience that is made to work with your Hot Wheels track (or even independently of it). Like many other augmented reality apps, Hot Wheels Power Port uses the iPad camera technology to function.
Hot Wheels Power Port works with "glyph markers" which are basically little, scannable stickers that are on the Hot Wheels track. When scanned, these glyph markers produce an augmented experience on the iPad screen. Suddenly, your car goes from racing on the plastic orange track, to cruising through the countryside, outrunning a tornado. The complete list of augmented reality scenes include:
Tornado Takedown
Sharkbite Bay
Cyborg Assult
Off-Track Glyphs
These special glyphs can be downloaded and printed from the Hot Wheels app page. There are even special "off-track" glyphs that can be used to bring special surprise characters to life on the iPad screen.
All of the augmented reality scenes are completely interactive and can be touched and tapped to reveal surprises. Touch the shark to almost lose a finger! Tap the cyborg to duel a scary robot! Touch the tornado to get up close and personal with one of nature's most amazing storms.
If your kids love Hot Wheels and would like to experience using glyph markers and augmented reality with Hot Wheels Power Port, click the Apple iTunes App Store button below to download the app for free!