No matter how many apps your kids play, Disney apps always seems to be the ones that they keep coming back to. From the movies and shows children know and love, Disney's line of apps couples fun and familiarity to create games for every age group. With characters kids recognize and exciting adventures awaiting, what's not to love? Recently, Disney released a compilation app of sorts that lets kids race cars with all of their favorite characters, called Disney Super Speedway.
There is nothing like a good racing game and this app really fits the bill! Disney Super Speedway sports characters from your kids favorite Disney and Disney XD shows like Phineas and Ferb, Motorcity, Fish Hooks, Kick Buttowski, Gravity Falls, Randy Cunningham 9th Grade Ninja and more! Not only can children pick their favorite characters to be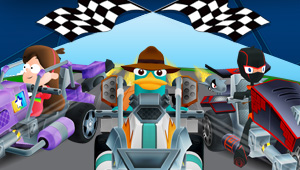 behind the wheel during the race, but there are a ton of other customizations as well. Kids can choose where they want to race from a selection of 3 different circuits and 9 different tracks. There are different levels of difficulty that can be set for increased challenges, as well as different race modes that can be unlocked. Thanks to the challenging level of difficulty, parents can play this app with their children as well. Everyone loves a good competition!
When kids are busy trying to beat their sibling's fastest race time, they can collect 'power-ups' that can be used alone for an increased speed boost, or in conjunction with another power-up for even better, faster, sibling-beating results! There are even a selection of  parts that can be upgraded on each racer so that kids can 'turbocharge' their car.
Disney Super Speedway is available for download via the Apple iTunes App Store button below for free. It is available for both iPhone and iPad platforms.