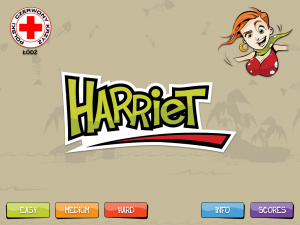 There are plenty of apps in the iTunes store that are both fun and carry and important message.  From anti-bullying campaigns to saving the environment, developers have become adept at combining the two.   It's important to help remind young players that while the iPad can certainly bring hours of amusement, it can also shed light on issues that may fall beyond a child's scope of comprehension.
Harriet, who happens to have an app named after her, is a Polish sailor trying to avoid the perils of the sea.  She must collect treasures to increase time limits and point scores while dodging pirates and spiked buoys.  Her boat moves around the ocean and a central island simply by tilting the iPad in the direction of the treasure or away from danger.  There is no violence, no beating anyone up, no blood or gore.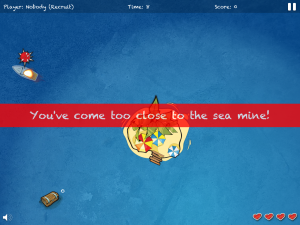 Younger players will be able to tackle the sailing motion with a simple tutorial from an older friend.  There are 3 levels to choose from – easy, medium, and hard – so the game will appeal to any age.  As dexterity increases players move up the ranks from simple recruit to important-sounding admiral.  Most notable about this game, though, is that it was developed by the Polish Red Cross and each download purchase includes a donation to the cause.
Not only is this game easy and appealing to all ages, it also comes with the added bonus of helping to teach about a cause.  The Polish Red Cross has cleverly hid this lesson in a great game, and for a download price of $1.99 the contribution is well worth it.
Pros:
– Very easy game play – just tilt
– Action game without violence
– Purchase includes a donation to the Polish Red Cross
Cons:
– Lack of "bells and whistles" might discourage some action-game lovers

Price: $1.99
Age: 2+
With a short learning curve, all ages will master this easy game.
Please help support iPadKids by downloading the game via the App Store icon below!