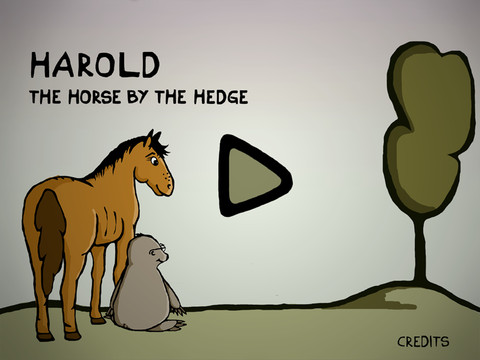 Sometimes I hear my kids scheming talking and I sneak up to listen so they don't know I'm there.  You would be amazed (or maybe you wouldn't) about the plots I'm thwarted mid-mischief.  Just today I quietly sneaked down the stairs after taking the World's Fastest Shower to find the two of them sharing an ice cream bar that I had already told them they couldn't have.  You should have seen how high they jumped.
Harold the Horse by the Hedge follows the same concept.  Harold meets Manni the Mole, and the two set off on an adventure to Cow Kingdom to find some treasure.  After a few unsuccessful attempts at getting over – or under – the hedge, the two finally make it.  (The story itself is from the point of view the hedge.)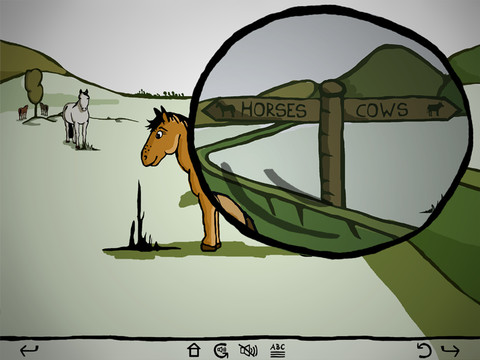 Each page has interactive tidbits, some of which are obvious and some of which are hidden.  In one scene players help the pair try to float over the hedge; in another page they have to dig through the earth.  The illustrations themselves are simple but cute, and kiddos can easily navigate through the pages using right and left arrows.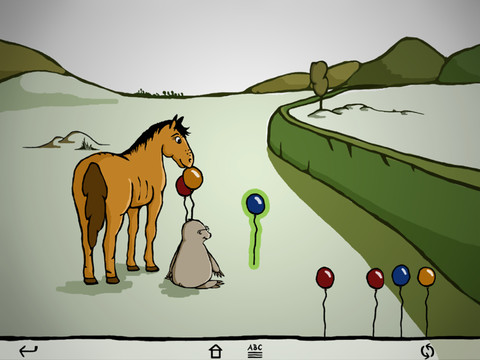 My kids haven't yet played this app because at 3 and 5, they can't yet read on their own.  There is no auto-play or verbal narration to go along with the words.  Also I knew they would get frustrated with the interactivity; with some taps and swipes nothing would happen although the area was highlighted with a green circle.
For only $0.99  this is a cute app to add to the iPad library for the young reader.  It will also teach young schemers kids how to creatively problem-solve.  But if you have younger children who aren't yet reading, they might get frustrated with the lack of narration and consistency of interaction.
Pros:
– Funny storyline encourages creative problem-solving
– Illustrations and music are quirky and cute
Cons:
– There's no verbal narration
– Interactivity is confusion and often doesn't even work

Price: $0.99
Age: 4+
This hedge has quite a story to tell!
Please help support iPadKids by downloading the game via the App Store icon below!