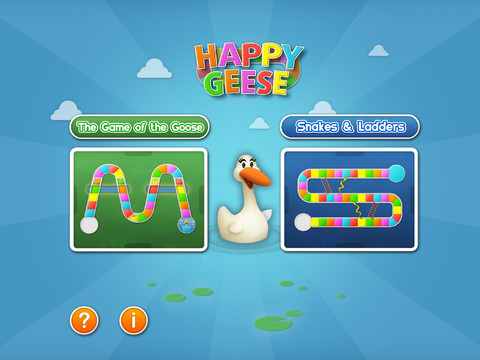 My mom recently moved and in the process found a large box of childhood toys and games that my brother and I played with when we were much younger.  In her new house my mother set up a corner where my two kids – 3 and 5 – could sit and go through these games; they decided together to try their hands at Monopoly.  Both kiddos got incredibly frustrated with me when I tried to explain how to acquire property Trump-style and ended up building a multi-colored housing development smack-dab in the middle of the Community Chest square.
Happy Geese is an app that removes the frustration of multi-step board games and complicated play instructions.  Younger children can easily play board games on the iPad while building early-learning skills such as color identification and number recognition.  This app is especially useful for special-needs players as well; there are no over-stimulating noises or animations, and the game play is streamlined to be easy enough for non-verbal or developmentally delayed players.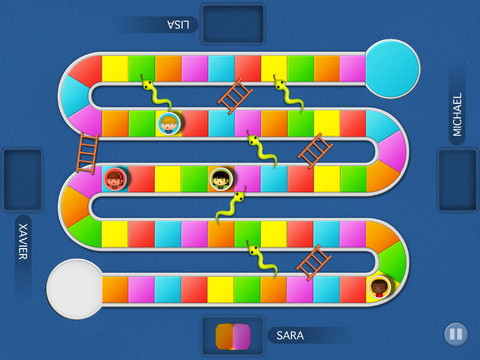 Two different game modes offer a wide variety of customizable options to fit any skill or age level.  The Game of the Goose  can be played on one of two game boards (with more available as in-app purchases) and 7 different dice can be chosen, each with sides including vowels, colors, or numbers.  In Snakes & Ladders kids can learn the traditional board game that is so popular during childhood because of its ease of play.
Playing Happy Geese with my kids was so much more fun than trying to explain why you get $200 (in fake money, no less) for passing "Go".  We talked about colors and numbers, taking turns, and moving forward and backward.  Even losing wasn't nearly as traumatic as you might expect it would be when playing with the preschool crowd.  However, if you're playing with a mixed-age group, the older kids might get a little bored.
Happy Geese is free to download and extras are available to purchase.  Families with young kids or learning environments for special needs kids would really benefit from this download.  It can streamline game night and you can avoid explaining why your crying toddler needs to go directly to jail…
Pros:
– Easy, open-ended play is ideal for young players
– Helps players learn colors, letters, numbers, and more
– Customizable content helps adapt game to players' skill level
Cons:
– Older and non-special needs players might get easily bored

Price: FREE
Age: 2+
An engaging story of nature and seasons helps early readers add to their skill set
Please help support iPadKids by downloading the game via the App Store icon below!