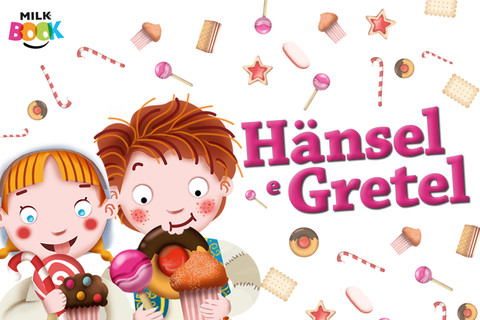 There's a great old childhood fable called "Hansel and Gretel", where a brother and a sister duo of bounty hunters wear leather body armor and hunt witches for a paycheck.  Wait, that doesn't sound right…  Okay, let me start again: Hansel and Gretel are  brother and sister, exiled to the woods by an evil stepmother and taken in by an equally evil witch.  Long story short, the witch ends up with the short end of the stick and the two clever kiddos live happily ever after.
Hansel And Gretel Milkbook is a lovely retelling of the ages-old tale, with rich illustrations and interactivity galore.  Non-readers can listen to a clear word-for-word narration of the story and readers can show off by skipping the narration and reading themselves.  Each page is jam-packed with interactive surprises that are hidden in the beautiful pictures.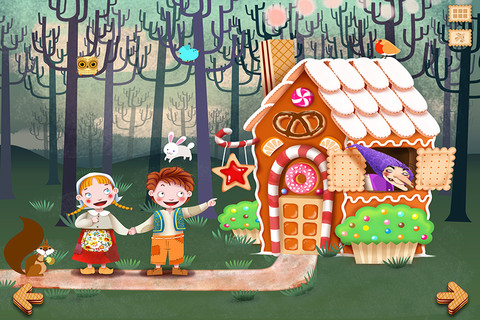 The accompanying pictures also serve to set a visual "tone".  As portrayed in this version Hansel and Gretel are rosy-cheeked children, with their evil stepmother in drab grey clothing and a scowl on her face.  The Witch's candy cottage is bright and cheery but the pair soon find out that the inside is literally like a prison.  Throughout each scene players can interact by – for example – tapping  forest critters to watch them scamper.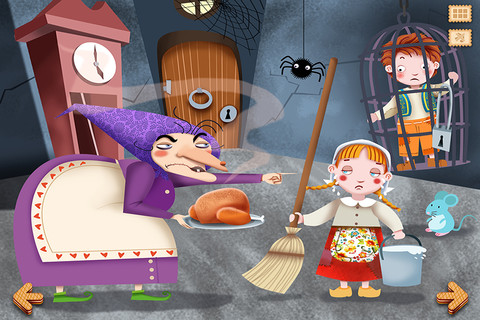 We loved reading this storybook and it happened to be a fable that neither of my kids had yet learned.  Both could easily swipe to change the page and really enjoyed the interactivity.  That said, we did encounter the theme of death and dying a few times throughout the writing.  My kids are 2 and 5 and thankfully we haven't had to have that discussion – until after reading this.  Just a caveat if that's a topic that your family hasn't tackled; it's a toughie and can be really scary for little ones.
Overall the book is beautiful to look at and a straightforward retelling of the classic kids' story.  At $2.99 it's less expensive to download than the average interactive storybook on the market today.  The narration is offered in Spanish and Italian (along with English) so the app can easily be used for younger players learning a new language.  It's also a great way to introduce your kiddos to the stories that you read as a child.
Pros:
– Fun, playful illustrations that are age-appropriate
– Players can read out loud or listen to a clear narration
– Interactive surprises throughout the pages of the storybook
Cons:
– The mention of death and dying several times may not be appropriate for some families

Price: $2.99
Age: 3+
Let your little one twinkle as they learn numbers with this starry app.
Please help support iPadKids by downloading the game via the App Store icon below!