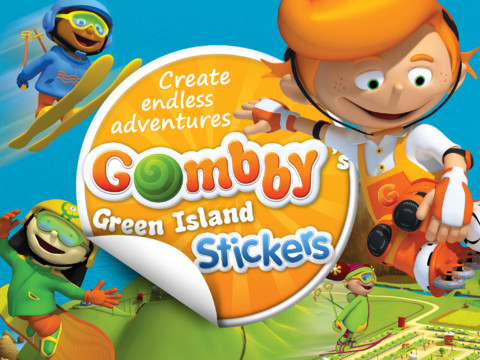 The other day, as I was pulling into a parking spot at our local YMCA, my son noticed that the car next to us was interestingly decorated.  I looked over to see that the rear passenger window was plastered with children's stickers.  Instantly I broke into a cold sweat thinking about the poor mom who would have to painstakingly peel off pieces of Spongebob and Dora.  My kids think I'm a mean old mommy for never buying them stickers but one day they'll know the truth.
Lucky for my car (and my sanity) there's the Gombby Stickers app.  Gombby and his buddies from Green Island are back to encourage creative and imaginative play in young players.  We first met the G-man when we reviewed Gombby Channel and loved his eco-friendly and age-appropriate vibe.  This time around players can set the scene for their own make-believe adventures, without making Mom clean up the mess.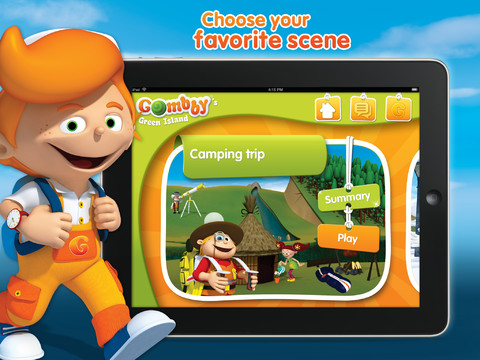 The initial free download of the app comes with three scenes.  Take Gombby camping in the wilderness – set up the tent, start a fire, and enjoy nature.  Or try the winter wonderland where Re and Mi – Gombby's bird friends – strap on their skis for a day of snowy fun.  Staying close to home is easy in the third scene, where Green Island's village center is the background.  Changing the size and position of pictures is easy just by using two fingers to stretch and rotate the items.  Pictures of the created scenes can be saved and shared via e-mail or social networks.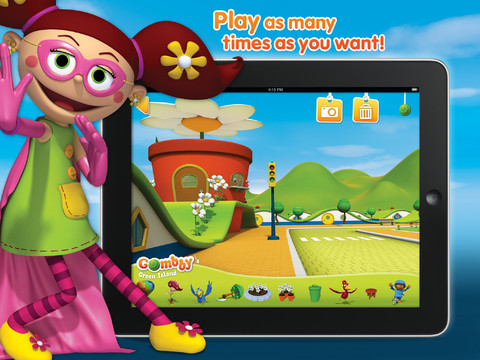 My kids loved Gombby Channel and they are just as smitten with this companion sticker app.  As with most kiddos in the 2-5 age group they are from the "more is more" school of thought and plastered the scenes with multiple stickers but had a blast doing it.   Playing the game also prompted my 5-year-old to ask about planting a garden and what things can be recycled.
Considering the fact that Gombby Stickers is a free app with some in-app purchases, it actually hits a lot of the intended targets.  The message of healthy living is clear, and the easy user interface and open-ended game play is makes it perfect for young players.  There's no reading involved and that means even beginner iPad users can have fun.  The only drawback is the "freemium" aspect of the game, but as long as I don't have to scrape stickers off the iPad screen that can be overlooked.
Pros: