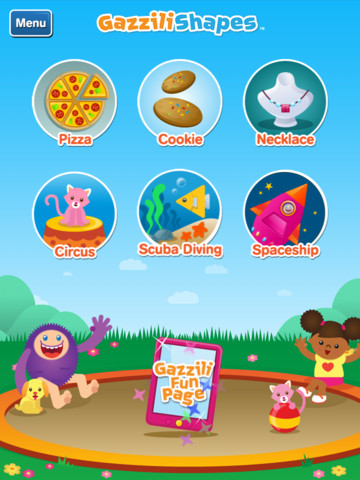 My kids hate the crust on their peanut-butter and jelly sandwiches, and like the pushover I am, the sandwiches are always served crust-free.  It used to be a hassle to indulge them at lunchtime by de-crusting, but now there are fancy-shmancy sandwich cutters that are pushed into the bread to create shapes.  To exact a little revenge sprinkle some knowledge upon my children I make them kindly ask them to name the shapes I cut into their lunch.
The developers at GaziliWorld must have also grown weary of painstakingly hacking at hoagies, releasing GaziliShapes to join their lineup of multi-sensory preschool apps.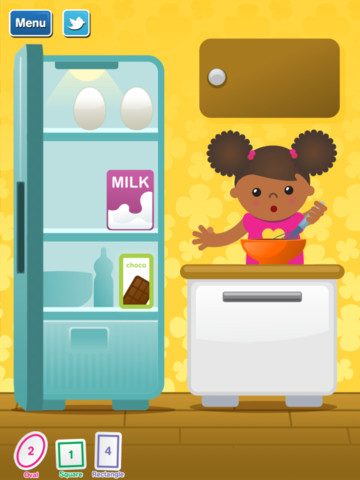 Vivid graphics and commonly recognized themes and objects mean that this early learning app not only keeps a preschooler's attention but also reinforces the skills being taught.
Comprised of six mini-games set in familiar surroundings, GazilliShapes focuses primarily on shape recognition.  In the kitchen players see that eggs are oval-shaped while they help the young character make cookies.  Travel underwater and little ones tap and swipe on sea life to learn that a triangle has three sides.  For each successful round an award is given, and after all the mini-games have been unlocked a new shape lands in the GazilliFunPage to complete an animated display of trademark Gazilli-ness.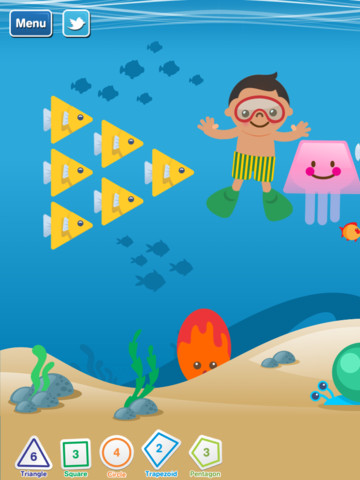 My son has played this app more than my daughter and really enjoys it.  His five-year-old brain quickly learned how to open the first level, and realized that in order to play the progressive levels they needed to be unlocked.  While he knows his shapes quite well, my daughter (almost 3 years old) is just starting shape recognition.  She's not as keen on playing this game but it's easy for her and spoken narration walked her through the steps.
For $1.99 there's a lot of game play and skill building wrapped up in this bouncy little app.  GazilliWorld uses early childhood experts from some of the country's most reknowned primary schools and this is reflected in the execution of their edu-apps.  While some of the developers'  other releases fell short, GazilliShapes really shaped up to meet our 5-star standard.
Pros:
– Expertly designed and developed to benefit preschool-aged players
– Six different puzzle mini-games means constant fun and excitement
– Reinforces fine motor development skills and hand-eye coordination
Cons:
– None; this vibrant is perfect for honing early childhood learning skills

Price: $1.99
Age: 2-4
Delightfully vibrant and easy to use, preschoolers will go silly for Gazzili!
Please help support iPadKids by downloading the game via the App Store icon below!