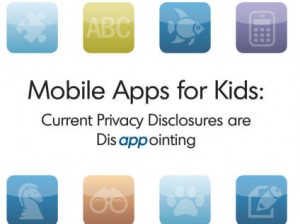 When children pick up an iPhone or an iPad, their parents want the security of knowing that steps have been taken by app developers to keep their children safe. In February of 2012, the Federal Trade Commission (FTC) conducted surveys within the children's app industry (apps that populate when the keyword "kids" is searched) and found that these steps for safety are not always taken. After finding what appeared to be gaping holes in children's app security, the FTC reprimanded developers and asked that they clean up their mess. Unfortunately, a second survey was taken during the summer of 2012 that found that many of the the security problems are still present.
Because of the obvious issues concerning security, parents, now more than ever, need to know what to look out for. There are many aspects of each app's security that should be reviewed before allowing children to access it. There are some security gaps that have an indirect effect, such as:
Privacy Disclosures-  According to the FTC, many of the reviewed apps gathered and shared kid's information without informing the parents in the app's privacy policy.
There are also several security issues that can affect children directly. These problems include:
In-App Advertising- Many apps that are geared toward children have advertisements present inside the app that are easily accessible to little tapping fingers. The concern is that these in-app advertisements may be inappropriate  for certain age groups. FTC even provides a screenshot on page 17 of their annual Kids App Report showing an advertisement stating "See 1000+ Singles!" at the bottom of a child's painting app.
In-App Purchases- If your children use apps regularly, you may have already experienced an "accidental purchase" by an over- zealous child. These in-app purchases can happen with as little as one tap of a finger and can soar up to $29.99. The FTC insists that this type of purchasing ability should not be available in apps that are marketed toward children.
Links To Social Media- Most parents will agree that the last thing they want when allowing their 4 year old to play a favorite app, is for them to end up on Facebook. However, the FTC has found that about 22% of the apps surveyed allowed children to access social media through the app. In a world where child-inappropriate social media abounds, this is considered unacceptable to  most parents.
As scary as it may seem, children's apps are still a great education and entertainment resource.The FTC had released a statement of recommendations to fix these problems, but until they take effect, the take-home lesson from this information should be caution on behalf of the parent. Browsing the privacy policy and playing the app in its entirety before handing  off to children is the best way to avoid any potential problems that may arise from using kid-unfriendly apps that are currently on the market.
Source: http://www.ftc.gov/os/2012/12/121210mobilekidsappreport.pdf
Image Source: http://news.cnet.com/8301-19518_3-57379469-238/ftc-mobile-apps-for-kids-lack-privacy-disclosures/