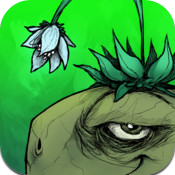 Today's Free Kids App of the Day is a gem of an iPad app by Penguin Books called,  The Land of Me: Story Time.
The app description says the app is only available on the iPad 2, however we tested the app on the latest generation iPad and it worked fine. This is one of our favorite kids apps, allowing your child to build their own story using a number of pre-set themes, heroes and endings.
The graphics are really wonderful and the app is so straight-forward to use it's suitable for even the youngest members of your family.
We can't recommend The Land of Me: Story Time enough!
iTunes description:
Gather round children, it's Story Time – the BAFTA-nominated create-your-own-story adventure from Ladybird Books

**FOR IPAD2 ONLY**
★ Create your own stories by choosing the hero, the theme and how it ends then see it come alive before your eyes!
★ Change the words to instantly alter the storyline as it plays out in front of you
★ Designed by child development experts for young children to explore their creativity
★ On-screen hints offering endless ideas for discussion and things to do
★ Listen as Granny Olive, a turtle of indeterminable age, tells tales about wolves, bravery and things that go bump in the night!
★ Be on the lookout for more apps from The Land of Me series!

Storytelling is an invaluable way for your child to develop their language and communication skills. Which of our intrepid adventurers is the hero of the story? What is the story about? How does your story end? Will you be laughing, smiling or down in the dumps? There's only one way to find out!
Please help support iPadKids by downloading the app using the link below!

#####
Free Kids App of the Day is on ongoing series on iPadKids where we hand select a free app to be featured every day. We can only guarantee that the app was free at the time of publishing, so get in quick so you don't miss out!