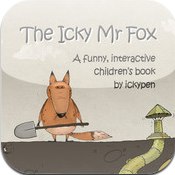 The Icky Mr Fox is a lovely interactive storybook app for the iPad — and best of all it's free (for a limited time only).
The app has been out for quite a while now, however it's still one of our all-time favorites. Download it to find out what happens when Mr Fox tries to ruin afternoon tea for Mr Rabbit and Mr Mole!
iTunes description:
★ FREE For a limited time! ★

A beautifully illustrated, funny, animated interactive story book for children of all ages. Optimized for iPad 1 and 2.

"★★★★★ Honest to god, I've never quite enjoyed an app as much as i did this one and I'm way to old to find it fun :p…"
"★★★★★ Having too much fun with this to let my kids use it…"
"★★★★★ Thanks a lot for creating such a beautiful app."
"★★★★★ My 2 year old loves it. great job. keep them coming !"

When Mr Rabbit and Mr Mole decided to have their afternoon tea, they couldn't have imagined that the Icky Mr Fox was plotting to ruin their day. Unfortunately for Icky Mr Fox, things don't always go as planned.

ICKYPEN's stories are always full of tomfoolery and funny twists.

To promote learning and reading in young children, the book is full of "tippy-tappy" objects which when tapped show the object's name as words and sound.

New features available in this interactive book for your iPad include professional narration, beautiful illustrations and funny animation.
Please support iPadKids by downloading this app using the link below!

#####
Free Kids App of the Day is on ongoing series on iPadKids where we hand select a free app to be featured every day. We can only guarantee that the app was free at the time of publishing, so get in quick so you don't miss out!