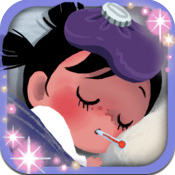 Sick of Being Sick is an adorable iPad book about a little girl who is fed up with being sick. Beautifully illustrated, the story is highly engaging and really allows your child's imagination to run wild.
Sick of Being Sick is free for a limited time only. Be sure to grab it while the promotion lasts!
iTunes description:
What else is a little girl to do, when she becomes sick of being sick? Let your child's imagination run wild in this beautifully illustrated story about a little girl with unlimited potential.

Features:
——-
– Original Never-Before-Seen Artwork
– A Live Orchestra Musical Soundtrack
– Each Page Includes Animated Illustrations
– Explore an interactive Guide for Navigation
– Read Alone OR Tap to Hear the Story Read to You
Please support iPadKids by downloading this app using the link below!

#####
Free Kids App of the Day is on ongoing series on iPadKids where we hand select a free app to be featured every day. We can only guarantee that the app was free at the time of publishing, so get in quick so you don't miss out!