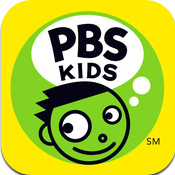 If you live in the USA and your kid is a fan of Curious George, Sesame Street, or The Cat in the Hat, then you need to download today's Free Kids App of the Day. PBS Kids video for iPad allow you and your child to watch clips of all their favorite TV series while on the go, as long as you've got an internet connection.
It would be much better if PBS made available the full versions of each show (instead of just clips), nonetheless, it's a good app.
iTunes description:
Watch videos from your favorite PBS KIDS television series anytime, anywhere (in the USA). "PBS KIDS Video" features more than 1,000 videos from over a dozen top PBS KIDS and PBS KIDS GO! television series, including Curious George, The Cat in the Hat Knows a Lot About That, Dinosaur Train, SUPER WHY!, Sesame Street and Wild Kratts.

CHILD-SAFE
The app provides a safe, child-friendly viewing experience for all ages. Kids can easily browse and watch videos at home, on the road, or anywhere with a 3G or WiFi connection.

NEW VIDEOS EVERY WEEK
Every week, the app will introduce your child to a new "Weekly Pick," a set of fun educational videos that will engage him or her in reading, science, math and more.

PARENT RESOURCES
The app also includes features that parents can access by sliding the "i-bar" to the right:

* Access your local PBS station TV schedule.
* Tap the heart icon to add a show to your child's favorites list.
* Share videos via email, Facebook or Twitter.
* Learn more about a TV series, such as intended age and learning goals.
* Download related PBS KIDS apps.
* Buy shows from iTunes or PBS KIDS Shop.

GEOGRAPHIC RESTRICTIONS
The PBS KIDS videos may only be viewed from within the United States. This is due to restrictions on PBS's license to offer this service.

ABOUT THIS APP
PBS KIDS Video is a key part of PBS KIDS' commitment to making a positive impact on the lives of children through curriculum-based entertainment—wherever kids are. More PBS KIDS videos may also be found online at pbskids.org/video. You can support PBS KIDS through the selection of other apps and TV shows available in the iTunes Store.

This app was designed by PBS KIDS and developed by Three Pillar Global, Inc.
Please help support iPadKids by downloading the app using the link below!

#####
Free Kids App of the Day is on ongoing series on iPadKids where we hand select a free app to be featured every day. We can only guarantee that the app was free at the time of publishing, so get in quick so you don't miss out!