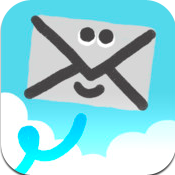 Maily is a brilliant email client for kids that provides them with safe introduction to online messaging. Tight parental controls means that you can monitor your child's contacts and approve both incoming and outgoing messages.
It's a really cool concept and the app is very well executed. Designed specifically for the iPad, the app is also completely free. Check it out and let us know what you think!
iTunes description:
Especially designed for kids from 4 years old, Maily allows your kids to send quirky, personalized emails to mom and dad, their grandparents or close friends easily, rapidly, and securely.

Your kids can now create and send their own emails, using elements like digital pencils, brushes, photos, personalized backgrounds, stickers, and their most commonly used expressions.

New emails from family or close friends arrive in your kids' personal inbox, and with their personal contact list, they can reply and send emails anytime.

Maily comes with extensive built-in parent control features, which enables you to be completely in charge of who your children communicate with, and when, including the ability to approve or reject messages before they are sent or received by their children.

FEATURES:

✔ Pencils and brushes to draw and write in their emails
✔ Over 30 cool stamps to create stories
✔ Over 30 personalized email backgrounds
✔ Photo camera
✔ Personal inbox to receive emails from friends and family
✔ Personal contact list
✔ Parent dashboard to supervise emails and manage contacts
✔ Kid-friendly replies from Maily contacts
Please help support iPadKids by downloading the app using the link below!

#####
Free Kids App of the Day is on ongoing series on iPadKids where we hand select a free app to be featured every day. We can only guarantee that the app was free at the time of publishing, so get in quick so you don't miss out!