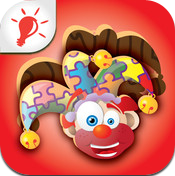 Ignore the clumsy name of this app in iTunes, PUZZINGO is a great free iPad game that is loads of fun for the kids. The puzzles are as entertaining as they are challenging, and best of all they are educational — and any app that aids learning in a fun way will always get plus points from us.
There are no advertisements for third party products in the app, however do be wary of the in-app purchases.
Enjoy!
iTunes description:
★ Best Kid's Apps by Chicago Tribune
★ Editor's Choice by BestAppsForKids.
Does your kid like puzzles? How about an educational puzzle game that is fun, interactive, vocal, and packed with animations? Puzzingo provides endless entertainment and learning to your kids! TRY IT TODAY!

✪ "Absolutely fabulous, the kids in my moms kindergarten class go crazy for it! It's so hard to find educational games kids want to play…look no further!"

✪ "This game gets two A+s!! One from me, and one from my 3yr old!!"

✪ "I work with special needs preschool children and they always ask for "the Puzzy Game"

Kids love Puzzingo! Its puzzles are full of interactivity, animations, and sounds for many repeat plays. In addition, there is a daily preview of new puzzles that your child can look forward to everyday. Besides being entertained, your kid will build vocabulary, memory, and cognitive skills while playing. This tactile game also appeals to young kids and children with special needs. It helps kids develop spatial recognition, matching, tactile, and fine-motor skills. As for you parents, this game is designed to be playable by you and your child together, so you can participate and bond with your child.

Unlike other kid's apps, PUZZINGO is 100% professionally illustrated. We also use professional voice actors with clear accurate pronunciation rather than machine-generated speech. When your child finishes a puzzle, he will be rewarded to a variety of engaging "mini-games". Visual and audio cues throughout the apps are specially designed to make the game accessible by young and special needs children.

PUZZINGO comes with hundreds of puzzles pieces in over 25 puzzles, with new puzzles added monthly. The puzzles include core concepts such as shapes, colors, numbers, food, and alphabet. They also cover children's favorite topics – animals, fish, bugs, space, rockets, and more. It comes with terrific FREE puzzles with over 50 pieces for your kid to enjoy. It also has a DAILY FREE PREVIEW of new and exciting puzzles every day. Additional puzzles are available via in-app-purchases.

✪ "My boys love this game. One with Autism and he is able to easily navigate while working on speech skills by repeating words in the game!! Highly recommend! =)"

✪ "My son loves this game! He did chores just so I would pay for the extended version ☺"

✪ "Best free app that you can download for your kid… Constant updates makes sure that there is something new every time your kid play it."
Please support iPadKids by downloading this app using the link below!

#####
Free Kids App of the Day is on ongoing series on iPadKids where we hand select a free app to be featured every day. We can only guarantee that the app was free at the time of publishing, so get in quick so you don't miss out!