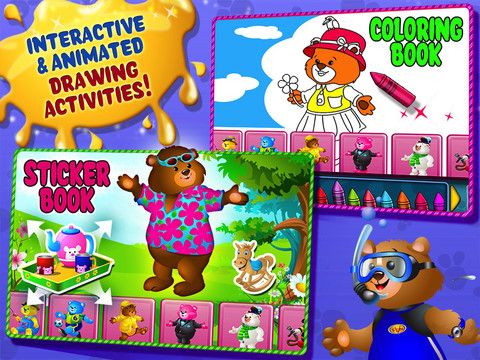 Our Free App of the Day is perfect for the young iPad novice in your house. Teddy Bear Colors is specifically geared towards the toddler & prechooler crowd, and offers fun and easy educational games to help with early learning.
★★★ Brilliant, Smart & Super Fun Educational Games to Challenge & Entertain Kids
★★ 30 Cute Teddy Bears Make Puzzles, Mazes, Coloring & Drawing Games Awesome!
★★★ 8 Diverse Games – Cool Teddy Bear Race Game, Score Points & Win Trophies!

Eight different types of creative & exciting teddy bear games, with dozens of options, makes this a fantastic experience for both younger and older kids alike. Multiple stages and challenging levels will keep kids stimulated and entertained.
Adorable teddy bear puzzles, mazes, memory, matching games and coloring helps to engage a child's imagination and enforces critical and spatial thinking skills. Add a Teddy Bear sticker book and an awesome running race with multi-levels, trophies and points to win, and you have an epic kids app! Paint Sparkles and finger painting makes this game fun for kids of all ages.

Puzzles have two levels – one easier and one more challenging to grow with kids as they develop. Other games have various stages – you must complete one level before moving on to the next.

✔ Coloring Book – Finger paint or fill areas with color to complete the cool coloring pages.
✔ Puzzle Fun – Enjoy 40 colorful, intuitive teddy bear shaped puzzles.
✔ Maze Challenge – Help the teddy bears find their way across the maze and reach the honey jar.
✔ Teddy Bear Run – Join Teddy Bear Theodore on his race! Help him collect all the boxes and find out which Teddy Bear is hiding behind them. Six stages – don't give up!
✔ Sticker Book – Interact with the adorable Teddy Bears on screen while you can finger paint with colors and fill areas with paint buckets.
✔ Mix and Match – The Teddy Bears got all mixed up, help match the parts and put the colorful bears back together. This game helps children develop their memory and logic skills.
✔ Magic Draw – Slide your finger on the drawing area to magically color the page then watch the drawing come to life.
✔ Teddy Match – Can you find two teddy bears that are exactly the same? Find all the teddy bear pairs to win the game.
✔ Save for Later – Save your pictures & puzzles to your photo album.

Sound doesn't work?
Try Increasing the volume and check that your device is not set to "Mute". The Mute button is located next to the volume buttons on the side of the device.

Still no sound?
On the iPad it's possible that your side switch is set to lock screen rotation. In this case you can control sound volume by:
– Double tap the home button
– Swipe the lower bar from left to right
– Tap the speaker icon to the far left
– It should show "Mute Off" below the play button
You can set the side switch functionality at "Settings > General > Use side switch to"
*Free Kids App of the Day is on ongoing series on iPadKids where we hand select a free app to be featured every day. We can only guarantee that the app was free at the time of publishing, so get in quick so you don't miss out!