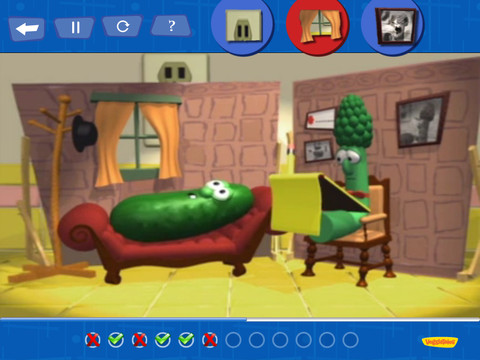 Watch and Find – VeggieTakes Games & Video Clips helps little ones learn with fun and age-appropriate songs, clips, and games.
iTunes Description:
An object recognition game with video clips direct from the official VeggieTales archives with older classics and sneak peeks at new releases.
——————————–

REAL USER & BLOG REVIEWS:

"So fun. My 3yo liked watching but couldn't spot much. I just like having silly songs in my purse when I need 'em!!" — Ohamanda (5 Stars)

"So adorable! My son, (who has autism) loves this app! He is a very big silly song fan! Please add more songs. He loves this. Thank you. :)" — Roxy R (5 Stars)

"My son and daughter love this! They are begging to play it now." — The Tinnons (5 Stars)

"This is SO cool! We are a Veggie Tales household big time and I can definitely get excited about Free Veggie Tales stuff! We have raised all three kids on Veggie Tales and now I find it amusing that in this age of technology and mobile devices, Veggie Tales is now available for me to entertain my children with right from my EVO cell phone! Wow!" — Love2EncourageYou.com
———————————
Download Now and get FREE regular updates with even more silly fun!

Watch & Find: VeggieTales Games and Video Clips features fan-favorite VeggieTales® video clips, Silly Songs and gameplay. This game challenges old and young to find (or "spot") things in the videos, and rewards them with new levels, new clips, and new lessons.

Children develop valuable skills, are taught important values and learn life's important lessons as they play this object recognition game using real clips from the #1 animated home video series in the US with moms of pre-schoolers.*

Learn important values in a way that's fun for kids. All the game levels are built using actual VeggieTales cartoon movie clips, including the wildly popular Silly Songs.
———————————
Free game levels include:

+I Love my Lips
+Lend a Little Hand
+His Cheeseburger
+Little Lessons
+Happy Toothday

There are three different content packages that can be purchased inside the app, including:

"Adventure Pack"
+Supper Hero
+Robin Good
+The Nose Knows

"Silly Songs Pack"
+Bubble Wrap
+Sippy Cup
+Endangered Love
+Hairbrush Song
+Where Have All The Staplers Gone?

"Friends Pack"
+Penniless Princess
+Best Friends Forever
+Madame Blueberry
———————————
Watch & Find: VeggieTales Games and Video Clips is now part of the Fingerprint Network of games for learning and play. Fingerprint offers a range of features to support the whole family including:

-A shared family account makes it easy for kids and parents to share a device and allows parents to track the game play and learning of multiple children under a single account

-In-App messaging lets kids and parents send one another fun and encouraging messages

-A curated game catalog suggests new apps based on your child's interest and learning levels

-Parent controls keep in-app purchase behind a parent gate

———————————

Already loved by more than three generations, parents, grandparents and children, the app teaches strong, family values in a fun way—through great stories. It's fun for the whole family.

Watch. Find. Be Silly!

——————————–

This free app contains a limited number of in-app payments and advertisements.

*Spring 2012 Q-Score
*Free Kids App of the Day is on ongoing series on iPadKids where we hand select a free app to be featured every day. We can only guarantee that the app was free at the time of publishing, so get in quick so you don't miss out!