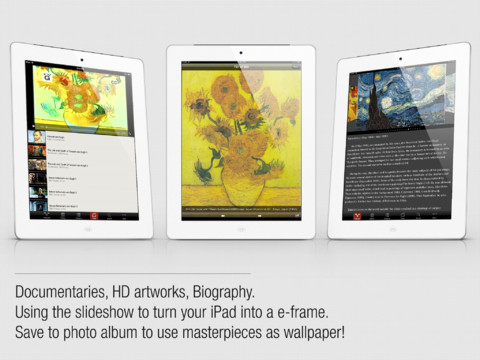 *This app is no longer being offered as FREE.
This amazing virtual gallery boasts the largest collection Van Gogh artwork in the App Store.  Budding artists will appreciate offline features and keyword search of almost 1000 images.
iTunes Description:
Welcome to the 2.0 version of Van Gogh app. We have redesigned the app to provide you with a better experience in fine art.

★★ Welcome to the LARGEST collection of HD Vincent van Gogh's Work ever in App Store, almost 1000 pieces of masterpieces, with high resolution which allows you to explore the very detail of Van Gogh's work.

This app is a virtual gallery with complete collection of HD artworks (drawings & paintings) by Van Gogh.

In this app, you will find:
★ the largest collection of Van Gogh's work on the App Store, browse through the collection without internet/wifi/3G connection.

★ a brief biography book of the artist, you can bookmark, share and print the pages.

★ search by artwork name, genre, year, gallery or whatever keywords you can think of.

★ iPad/iPhone/iTouch Compatible! iPad 3 Retina screen Enhanced!

★ selected educational videos and documentaries on art (Internet connection required).

★ slideshow with background music

★ Our collection has several categories:
✳Etten, Drenthe and The Hague : Early works of Vincent van Gogh
✳Nuenen and Antwerp (1883–1886): Van Gogh as an emerging artist
✳ Paris (1886–1888): Van Gogh moved to Paris and discovered the French Impressionists.
✳Move to Arles (1888–1889): The yellow house, and artistic breakthrough
✳Saint-Rémy (May 1889 – May 1890): The Starry Night
✳Auvers-sur-Oise (May–July 1890): Van Gogh's final years
———————————————–
Problems or questions

Please visit http://mokoo.org/support/ for feedback or bug report.

❐ If your suggestions and feedbacks are coming, our next update is also coming.
———————————————–
©MOKOO 2012, All Rights Reserved. Design and Interface Protected by copyright law.
———————————————–

✓ User Interface:
Simple and nice interface, brings great art into our life.

✓ Accessibility:
access to information without wifi or 3G connection

✓ Updated Information:
We update our image bank frequently.