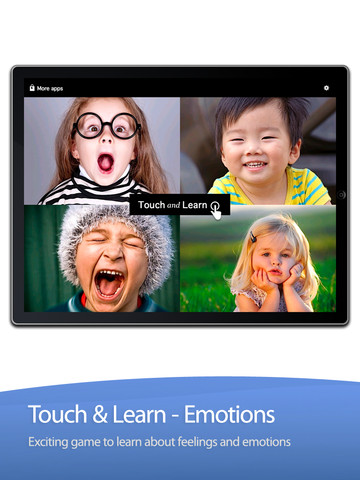 Help your little one learn about their emotions with our Free App of the Day.  Touch and Learn – Emotions features pictures of real kids and real feelings.
iTunes Description:
★★★★★ Omg… these pictures are amazing. What a fun way to learn about emotions and so easy to customize too!



Endorsed by tens of thousands of satisfied parents, teachers, and kids the world over.

Touch and Learn is a powerful new gaming platform that allows you to introduce new concepts in a fun and exciting new way.
This app focused on helping kids read body language and understand emotions by looking at gorgeous pictures and figuring
out which person is expressing a given emotion.

WHY PARENTS AND TEACHERS LOVE THIS APP

✔ The app is super easy to customize so you and adjust everything to your liking
✔ You can turn individual concepts ON or OFF and introduce one new emotion at a time
✔ The app is super easy to use for kids of all ages and all abilities
✔ You can add new concepts (emotions, actions, etc.) in one click

WHY KIDS WILL LOVE IT TOO

✔ 100+ gorgeous photos keep kids engaged and wanting more
✔ The app if fun, simple, and easy to use
✔ Kids love hearing everything in mommy's or daddy's voice
✔ Wrong answers do not interfere with gameplay

Heroic Support
****************************************

Heroic Support is not just what we do. It's really what makes us, well, us. It's that drive to make a difference in your life – no matter how big or small. Really, it's our way of life because we want you to be our customer for a lifetime of fun and learning.

Have questions? We are here to help. Email us at support@alligatorapps.com
*Free Kids App of the Day is on ongoing series on iPadKids where we hand select a free app to be featured every day. We can only guarantee that the app was free at the time of publishing, so get in quick so you don't miss out!