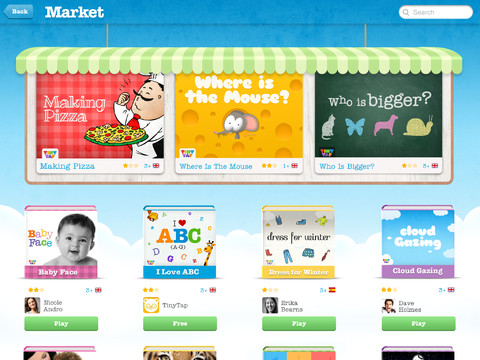 Even with all of the educational apps in the App Store, it can be hard to find THE perfect game for your little one. Our Free App of the Day solves that problem! TinyTap, Moments Into Games lets parents create educational games from "templates" by adding pictures of and facts about their kiddos.
iTunes Description:
TinyTap allows parents and kids to create educational games from everyday moments. Creating a game is simple – add a photo, record some questions, trace the answers and you're ready to play!

★ New & Noteworthy in 15 stores.★
★ TechCrunch: "It's hard not to fall in love with the concept" ★
★ Creativity: "Kids can prepare to become next generation app developers" ★
★ Telephoon: "The app is based on the smart ability of a toddler to recognize the known faces and the voice" ★

With TinyTap all it takes is a few taps to create fun educational games that will keep your children engaged for hours. TinyTap offers a learning experience unlike any other. Games are simple to create and can even be shared with friends.

All games can be personalized to suit the needs and interests of each individual child. In a matter of seconds you have an educational game that's not only fun but will develop your child's creativity in unimaginable ways.

● Educational

TinyTap is the perfect addition to any classroom. It's now simpler than ever for teachers to create fun and interactive activity books. Teachers worldwide are using the platform as teaching aid in the classroom. TinyTap is also being successfully used for people with autism.

● Features

✔ Graphics are enhanced to suit new iPad retina display
✔ Option to add own images, use iPad-shot pictures or use images from a web search
✔ Record your own voice over photos so your little ones can always hear a familiar voice
✔ Record a question, an answer and a hint for a rich, interactive user experience
✔ Personalize games with a selection of 20 different soundtracks
✔ Track a child's progress using the in-game scoring system
✔ Intuitively simple interface – easy for any to create and play games
✔ Easy to share newly created games with friends and family
✔ Personalize pre-made games from the TinyTap store with narration and images

● Community Store

The TinyTap store is filled with a selection games that are ready to be personalized and played. All these games focus on developing a child's imagination, creativity and coordination without compromising on any of the fun. These include games about colours, animals, shapes and more.

● TinyTap Artist – Draw your games

A new tool which puts the power of doodling in the tap of your child's fingertips. Artist puts a conveniently designed palette with everything from paint brushes to pencils in your child's hands. Parents and teachers could use Artist to teach children the alphabet, numbers or to simply tell a story.

TinyTap – Turn Moments Into Games
Download the app for free!
*Free Kids App of the Day is on ongoing series on iPadKids where we hand select a free app to be featured every day. We can only guarantee that the app was free at the time of publishing, so get in quick so you don't miss out!